OUR DECLARATION, by Allen
Thursday, December 20, 7:30 pm
The Fascinating History Book Group is led by P&P's Shane Cagney (scagney@politics-prose.com) and meets the fourth Thursday of each month at 7:30 p.m.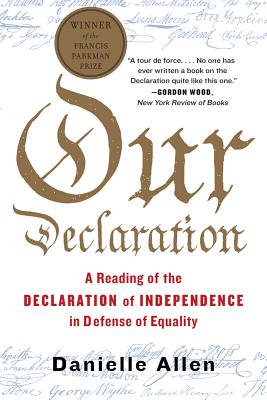 $16.95
In Stock—Click for Locations
Description
---
Featured on the front page of the New York Times, Our Declaration is already regarded as a seminal work that reinterprets the promise of American democracy through our founding text. Combining a personal account of teaching the Declaration with a vivid evocation of the colonial world between 1774 and 1777, Allen, a political philosopher renowned for her work on justice and citizenship reveals our nation's founding text to be an animating force that not only changed the world more than two-hundred years ago, but also still can. Challenging conventional wisdom, she boldly makes the case that the Declaration is a document as much about political equality as about individual liberty. Beautifully illustrated throughout, Our Declaration is an uncommonly elegant, incisive, and often poetic primer on America's cardinal text (David M. Kennedy).