TETHERED MAGE, by Caruso
Thursday, September 12, 6:30 pm
The Fantasy and Science Fiction Book Group meets the second Thursday of every month at 6:30 p.m. in the Den Coffeehouse to discuss the fantasy selection, and at 7:30 p.m., same place, to discuss the sci-fi book for that month.
The books we've read have ranged from Military Science Fiction like "The Forever War" by Joe Haldeman to classics like "Foundation" by Isaac Asimov or "A Wrinkle in Time" by Madeline L'Engle. We don't always choose the best books. In fact, some of our best discussions have been about the ones we all passionately hate. We pick a bunch of books to vote on and then select 5-6 for the upcoming months.
If you are interested in meeting some geeky people who like Science Fiction (and Fantasy), by all means drop by! No RSVP needed. Any questions, shoot me an email at abogomazov@politics-prose.com
- Anton Bogomazov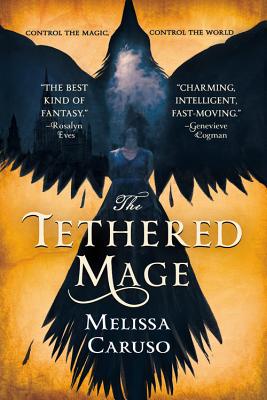 $15.99
In Stock—Click for Locations
Description
---
The first book in a spellbinding fantasy trilogy for fans of The Queen of the Tearling and The Red Queen, where two young women -- a mage with coveted powers, and the scion of a powerful family -- are magically bound in service to the Empire.
Magic is scarce in the Raverran Empire, and those born with such powers are strictly controlled -- taken as children and conscripted into the Falcon army, to be used as weapons in times of war.
Zaira has lived her life on the streets to avoid this fate, hiding her mage mark and thieving to survive. But hers is a rare and dangerous magic, one that threatens the entire Empire.
Lady Amalia Cornaro was never meant to be a Falconer. Heiress and scholar, she was born into a treacherous world of political machinations.
But fate has bound the heir and the mage. And as war looms on the horizon, a single spark could turn their city into a pyre.
The Tethered Mage is the first novel in Caruso's debut series, Swords and Fire.

The Swords and Fire series
The Tethered Mage
The Defiant Heir
The Unbound Empire
About the Author
---
Melissa Caruso was born on the summer solstice and went to school in an old mansion with a secret door, but despite this auspicious beginning has yet to develop any known superpowers. Melissa has spent her whole life creating imaginary worlds, and in addition to writing is also an avid LARPer and tabletop gamer.
She graduated with honors in Creative Writing from Brown University and has an MFA in Fiction from the University of Massachusetts Amherst. Melissa's first novel, The Tethered Mage, was shortlisted for a Gemmell Morningstar award for best fantasy debut.
Praise For…
---
"Charming, intelligent, fast-moving, beautifully atmospheric, with a heroine and other characters whom I really liked as people. I couldn't put it down (I overstayed my lunch break in order to finish it.) I would love to read more set in this world."—
Genevieve Cogman, author of The Invisible Library
"The Tethered Mage
is the best kind of fantasy: intricate world-building, the most intriguing of court intrigues, and a twisty plot. But while readers might pick it up for those elements, they'll stay for the engaging characters and the unlikely friendships at the story's heart."—
Rosalyn Eves, author of Blood Rose Rebellion
"
The Tethered Mage
is a riveting read, with delicious intrigue, captivating characters, and a brilliant magic system. I loved it from start to finish!"—
Sarah Beth Durst, author of The Queen of Blood
"Intricate and enticing as silk brocade. Caruso's heroine is a strong, intelligent young woman in a beguiling, beautifully evoked Renaissance world of high politics, courtly intrigue, love and loyalty - and fire warlocks."—
Anna Smith Spark, author of The Court of Broken Knives
"Engaging and entertaining with intrigue, a good pace, and strong characters. Zaira and Amalia are bright, bold heroes in a smartly constructed world."—
James Islington, author of The Shadow of What Was Lost
"One of the best first novels in a brand new high fantasy series that I've read in ages.... If you're hungry for a new fantasy series with awesome, nuanced characters, powerful worldbuilding, and solid writing - look no further.
The Tethered Mage
is the book you need right now. Absolutely recommended."—
Book Smugglers
"An enchanting voice and an original world you won't want to leave."—
RJ Barker, author of Age of Assassins
"Breathtaking... Worth every moment and every page, and should make anyone paying attention
excited about what Caruso will write next."
—
BookPage
"A rich world, political intrigue, and action that keeps you turning pages--
The Tethered Mage
is classic fantasy with a fresh voice."—
Jeff Wheeler, author of The Queen's Poisoner
"The plotting is good, the characters interesting.... Something really special."—
RT Book Reviews
"It's a pleasure to journey with shy and slightly awkward Amalia as she puts her scholarship in magic and puzzle-solving skills to good use.... Charming."—
Kirkus
"Caruso skillfully maintains her plot."—
Publishers Weekly
"A gorgeous, fresh fantasy debut filled with political intrigue and ethical quandary.... Highly recommend."—
Girls in Capes