STRANGE CASE OF THE ALCHEMISTS DAUGHTER, by Goss
Thursday, December 12, 6:30 pm
The Fantasy and Science Fiction Book Group meets the second Thursday of every month at 6:30 p.m. in the Den Coffeehouse to discuss the fantasy selection, and at 7:30 p.m., same place, to discuss the sci-fi book for that month.
The books we've read have ranged from Military Science Fiction like "The Forever War" by Joe Haldeman to classics like "Foundation" by Isaac Asimov or "A Wrinkle in Time" by Madeline L'Engle. We don't always choose the best books. In fact, some of our best discussions have been about the ones we all passionately hate. We pick a bunch of books to vote on and then select 5-6 for the upcoming months.
If you are interested in meeting some geeky people who like Science Fiction (and Fantasy), by all means drop by! No RSVP needed. Any questions, shoot me an email at abogomazov@politics-prose.com
- Anton Bogomazov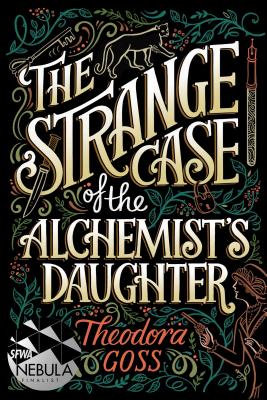 $16.99
In Stock—Click for Locations
Description
---
Based on some of literature's horror and science fiction classics, this "tour de force of reclaiming the narrative, executed with impressive wit and insight" (Publishers Weekly, starred review) debut is the story of a remarkable group of women who come together to solve the mystery of a series of gruesome murders—and the bigger mystery of their own origins.

Mary Jekyll, alone and penniless following her parents' death, is curious about the secrets of her father's mysterious past. One clue in particular hints that Edward Hyde, her father's former friend and a murderer, may be nearby, and there is a reward for information leading to his capture…a reward that would solve all of her immediate financial woes.

But her hunt leads her to Hyde's daughter, Diana, a feral child left to be raised by nuns. With the assistance of Sherlock Holmes and Dr. Watson, Mary continues her search for the elusive Hyde, and soon befriends more women, all of whom have been created through terrifying experimentation: Beatrice Rappaccini, Catherin Moreau, and Justine Frankenstein.

When their investigations lead them to the discovery of a secret society of immoral and power-crazed scientists, the horrors of their past return. Now it is up to the monsters to finally triumph over the monstrous.
About the Author
---
Theodora Goss is the World Fantasy Award–winning author of many publications, including the short story collection In the Forest of Forgetting; Interfictions, a short story anthology coedited with Delia Sherman; Voices from Fairyland, a poetry anthology with critical essays and a selection of her own poems; The Thorn and the Blossom, a novella in a two-sided accordion format; and the poetry collection Songs for Ophelia; and the novels, The Strange Case of the Alchemist's Daughter, European Travel for the Monstrous Gentlewoman, and The Sinister Mystery of the Mesmerizing Girl. She has been a finalist for the Nebula, Locus, Crawford, Seiun, and Mythopoeic Awards, as well as on the Tiptree Award Honor List, and her work has been translated into eleven languages. She teaches literature and writing at Boston University and in the Stonecoast MFA Program. Visit her at TheodoraGoss.com.
Praise For…
---
"Theodora Goss is a wonder. Her elegance, wit and powerful voice pull no punches. A brilliant, deeply felt, and nimble book."
— Catherynne M. Valente, Hugo-Award winning author

"Theodora Goss' splendid debut novel is a whipsmart look at the truths hiding in the stories - Jekyll and Hyde, Frankenstein, and others - that you might think you know. Full of bravery, adventures, monsters, and sisters, The Strange Case of the Alchemist's Daughter is a rich delight. I loved it, and I can't wait to read the next book."
— Kat Howard, author of ROSES AND ROT

"Theodora Goss' The Strange Case of the Alchemist's Daughter provides a new and altogether mesmerizing revelation for fans of Watson & Holmes, Van Helsing, Jeckyll & Hyde, and Victor Frankenstein: until now, you've only heard half the story. Goss' deft, poetic interweaving of edge-of-the-seat adventure with the artful voices of her characters creates a matryoshka doll of hidden Gothic fiction in the best sense. The Strange Case of the Alchemist's Daughter proves the point that behind every evil genius you'll find a team of fantastic women working to set things right.

As if Charlie's Angels, as written by Mary Shelley, took over the Bluestocking Society, with bonus well-mannered explosions. An utterly delightful, transformative read."
— Fran Wilde, award-winning author of Updraft, Cloudbound, and Horizon

* "A tour de force of reclaiming the narrative, executed with impressive wit and insight."
— Publishers Weekly, STARRED REVIEW

"An enormously accomplished delight of a book...a brilliant novel."
— Liz Bourke

"A pleasure, especially for fans of Victorian detective stories, classic sf and horror literature, and feminist remakes."
— Booklist

"A delightful romp through Victorian gothic literature, with a decidedly feminist slant."
— Library Journal

"A swiftly paced, immaculately plotted mystery full of winning characters you always thought you knew, as well as ones you would never have imagined."
— NPR

"If you're looking for adventure, kick-ass ladies, a good mystery, and a touch of the monstrous, look no further—The Strange Case of the Alchemist's Daughter is the brainy, gleefully madcap literary mashup of your dreams."
— B&N SciFi & Fantasy Blog

" Like a literary magpie, Goss snaps up some of the shiniest bits of Victorian popular culture, but she makes them her own, seeing the possibilities beyond the efforts of their original creators and constructing an intelligent and engrossing 21st-century adventure."
— The Portland Press Herald

"Goss skillfully balances the revisionist feminist themes with a crackling conspiracy adventure and a colorful portrait of Victorian London."
— The Chicago Tribune

"They are just as much fun as their fictional fathers, and like the League of Extraordinary Gentlemen, their talents play off against one other, anchored by Mary, the most normal of them: prudent, thrifty, genteel, her father's revolver loaded and ready."
— The Wall Street Journal

"Goss upends fantasy tropes to bring to life characters who would have been ignored in the period works that inspired them, and the result is a fantastic, gripping read that feels true to the spirit of the original works, but updated with a modern spin for the 21st century reader."
— The Verge