A SEPARATION, by Kitamura
Evening Fiction Book Group meets 2nd Tuesday of each month at 7:30 p.m.
The oldest of P&P's store sponsored book groups, it was begun by Carla Cohen shortly after the store opened over 25 years ago, when we were still located in the small space across the street. A handful of present members have been coming all these years.
It's a pretty large group, usually between 20 and 30 people. I refer to it sometimes as a "no guilt book group." It's not going to fall apart because you couldn't make it one month. We read a variety of authors and try to represent the diversity of countries and cultures. Some books we've enjoyed discussing include: The In-Between World of Vikram Lall by M.G. Vassanji, Sister of My Heart by Chitra Banerjee Divakaruni, Housekeeping by Marilynne Robinson, Uncle Tom's Cabin by Harriet Beecher Stowe, and Light in August by William Faulkner.
Some books have worked better than others, but the group never fails to manage a lively discussion. If you enjoy reading fiction and like to be surprised by great stories and authors you haven't encountered before, this might be your group.
- Mark LaFramboise <Mark@politics-prose.com>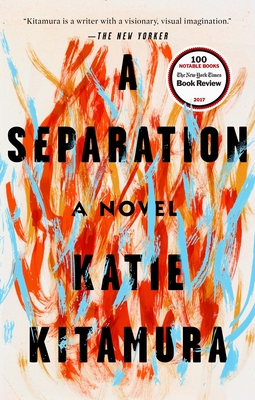 $16.00
In Stock—Click for Locations
February 2017 Indie Next List
---
"We all have a secret self, parts of our personalities that are unknowable, even to the people closest to us. In A Separation, Kitamura stays largely inside the narrator's head, musing on a great many things: the muddled truth that can exist between married couples, the precise pain of infidelity, the myriad tiny betrayals we commit every day. Her prose is perfect, spare and beautiful, and her observations are spot-on. Some of her sentences were so good they startled me out of the story, which might sound like a bad thing, but it really isn't. It just meant I spent a little longer with this book, my mind wandering like the narrator's."
— Lauren Peugh (E), Changing Hands Bookstore, Tempe, AZ
Description
---
A PBS NewsHour/New York Times Book Club Pick

A NEW YORK TIMES NOTABLE BOOK

Named a best book of the year by the New York Times, NPR, Huffington Post, The A.V. Club, The San Francisco Chronicle, The Guardian, Refinery29, Town & Country, Harper's Bazaar, NYLON, BookRiot.

"Kitamura's prose gallops, combining Elena Ferrante-style intricacies with the tensions of a top-notch whodunit." —Elle

This is her story. About the end of her marriage. About what happened when Christopher went missing and she went to find him. These are her secrets, this is what happened...
 
A young woman has agreed with her faithless husband: it's time for them to separate. For the moment it's a private matter, a secret between the two of them. As she begins her new life, she gets word that Christopher has gone missing in a remote region in the rugged south of Greece; she reluctantly agrees to go look for him, still keeping their split to herself. In her heart, she's not even sure if she wants to find him. As her search comes to a shocking breaking point, she discovers she understands less than she thought she did about her relationship and the man she used to love. 

A searing, suspenseful story of intimacy and infidelity, A Separation lays bare what divides us from the inner lives of others. With exquisitely cool precision, Katie Kitamura propels us into the experience of a woman on edge, with a fiercely mesmerizing story to tell.
About the Author
---
Katie Kitamura is a critic and novelist living in New York City. She is the author of Gone to the Forest and The Longshot, both of which were finalists for the New York Public Library's Young Lions Fiction Award. A recipient of a Lannan Residency Fellowship, Kitamura has written for The New York Times, The Guardian, Granta, BOMB, Triple Canopy, and is a regular contributor to Frieze.
Praise For…
---
"Kitamura is a writer with a visionary, visual imagination… In A Separation, [she] has made consciousness her territory. The book is all mind, and an observant, taut, astringent mind it is." —The New Yorker

"A slow burn of a novel that gathers its great force and intensity through careful observation and a refusal to accept old, shopworn narratives of love and loss." —Jenny Offill, author of Dept. of Speculation

"Thrilling." —New York Magazine

"Fascinating, artful and atmospheric." —Paula McLain, Parade magazine

"Unsettling… Kitamura traces the narrator's thoughts in sentences striking for their control and lucidity, their calm surface belied by the instability lurking beneath… The more the narrator tells us, the less we trust her. And the less we trust her, the more this hypnotic novel compels us to confront the limits of what we, too, can know." —O, the Oprah Magazine

"A novel so seamless, that follows its path with such consequence, that even minor deviations seem loaded with meaning. Wonderful." —Karl Ove Knausgaard, author of My Struggle

"Accomplished… a coolly unsettling work." —New York Times Book Review

"Kitamura's prose gallops, combining Elena Ferrante-style intricacies with the tensions of a top-notch whodunit." —Elle

"Kitamura weaves a novel of quiet power, mostly due to a narrative voice that is so subtly commanding—so effortlessly self-aware and perceptive, teeming with dry yet empathetic humor—that it's a challenge not to follow her journey in a single sitting." —Harper's Bazaar

"Katie Kitamura breathes new life into the theme of marital breakdown." —The New Republic

"[A]n atmospheric and emotionally sophisticated novel that reads like a taut Patricia Highsmith thriller." —BBC

"The burnt landscape, the disappearance of a man, the brilliantly cold, precise, and yet threatening, churning tone of the narrator—make A Separation an absolutely mesmerizing work of art." —Rachel Kushner, author of The Flamethrowers

"Katie Kitamura is a visionary.... A Separation is a poised literary thriller on the outside and an investigation of interiority and the faulty narratives we assign to the world on the inside." —LitHub

"A Separation looks poised to be the literary Gone Girl of 2017." —The Millions 

"A Separation displays Kitamura's stylistic control once again.... Violence of all kinds, not just against other bodies but against other minds, remains Kitamura's quarry. 'A Separation' proves that few stalk such game more patiently or more powerfully." —San Francisco Chronicle

"Unnerving... taut with quiet suspense.... It is wonderful to read a book that respects its readers in this way; Kitamura allows our imaginations to do much of the work." —NPR

"[A] slow-burn psychological novel, which rakes the embers of betrayal to find grief smoldering underneath… An absorbing tale." —Boston Globe

"This novel has everything I love in a book: love, loss, a journey, and stunning writing." —Martha Stewart

"Spell-binding" —Real Simple

"Prepare to feel, well, everything – this is a raw look at an emotionally charged life event." —Marie Claire

"A contemplative and lyrical narrative... A Separation will transfix you as powerfully as the Mediterranean vistas that are its backdrop." —Harper's Bazaar (The Best New Books of 2017, So Far)

"Stylistically ambitious and psychologically rich… A Separation is a work of great intensity and originality… There are deft meditations on the art of translation and the ritual of mourning, and sharp insight into what binds and divides lovers.... This is the book that elevates Kitamura to a different league." —Minneapolis Star-Tribune

"Profound and gripping. I had that rare sense of feeling like I was in a creation specifically made out of words, that couldn't have been made out of any other substance. Kitamura combines the calm complexity of Joseph Conrad with the pacing and reveal of Patricia Highsmith. This novel is a wonder and a pleasure." —Rivka Galchen, author of Atmospheric Disturbances and Little Labors

"Told through a chilling first-person narration, A Separation explores the distance and intimacy that comes with searching for someone you are separated from and the grief that such a hunt can carry."  —Mashable

"A Separation opens up fissures of ambiguity in emotional experiences too often misunderstood as monolithic—grief, desire, estrangement—and plumbs these crevices for all their complexities. It has both urgency and afterglow: I read it quickly, but didn't stop thinking about it for a long time once I was done." —Leslie Jamison, author of The Empathy Exams

"Secrets make up the plot and theme of [A Separation].... There is a crime and certainly a twist, but the discoveries and resolutions are internal, existential." —Vulture

"[T]hrilling domestic noir…smart, spare…Kitamura gives us a book that's worth reading for its inventive cadences alone. And there's more to it than that: surprising turns and honest thoughts on the complexity of loss." —Huffington Post

"[An] intimate, psychological mystery." —Boston Globe

"[M]ark your calendar for sleeplessness, because if you're anything like me, you'll read it straight through without stopping…Kitamura's spare language somehow seems barely able to control the emotion it signifies." —LitHub

"Tautly austere, lyrical and jarring...For readers seeking profound examinations of challenging relationships . . . Kitamura's oeuvre will be a compelling discovery." —Library Journal [STARRED REVIEW]

"A spare and stunning portrait of a marital estrangement... [B]uilds into a hypnotic meditation on infidelity and the unknowability of one's spouse. In precise and muted prose, the entire story unspools in the coolly observant mind of a young woman... A minutely observed novel of infidelity unsettles its characters and readers." —Kirkus [STARRED REVIEW] 

"Brilliantly written and reminiscent of Gone Girl." —InStyle

"Unlike every other half-baked thriller with a female protagonist making the same claim, this one might actually deliver. Elegant prose makes all the difference." —Refinery29

"At once cool and burning, Kitamura's immersive, probing psychological tale benefits from its narrator's precise observations and nimble use of language." —Booklist

"Kitamura is a major talent." —The Boston Globe
 
"Hemingway's returned to life—and this time, he's a woman." —Tom McCarthy

"A mesmerizing novel, one whose force builds inexorably as its story unfolds in daring, unexpected strokes... Be warned: you'll find yourself reading long past midnight, out of breath and wide awake. This is a bold and powerful book." —Julie Orringer

"A watchful and magnificent work. From the first page, Kitamura is in complete control, both of the prose and the story it carries. She is a skilled hunter and we are her helpless prey." —Teju Cole