THE QUICK AND THE DEAD, by Williams NOTE: Meeting Online
Tuesday, March 9, 7:00 pm
Evening Fiction Book Group meets 2nd Tuesday of each month at 7 p.m. Meeting Online. Please email bookgroups@politics-prose.com to sign up for online info.
The oldest of P&P's store sponsored book groups, it was begun by Carla Cohen shortly after the store opened over 30 years ago, when we were still located in the small space across the street. A handful of present members have been coming all these years.
It's a pretty large group, usually between 20 and 30 people. I refer to it sometimes as a "no guilt book group." It's not going to fall apart because you couldn't make it one month. We read a variety of authors and try to represent the diversity of countries and cultures. Some books we've enjoyed discussing include: The In-Between World of Vikram Lall by M.G. Vassanji, Sister of My Heart by Chitra Banerjee Divakaruni, Housekeeping by Marilynne Robinson, Uncle Tom's Cabin by Harriet Beecher Stowe, and Light in August by William Faulkner.
Some books have worked better than others, but the group never fails to manage a lively discussion. If you enjoy reading fiction and like to be surprised by great stories and authors you haven't encountered before, this might be your group.
- Mark LaFramboise <Mark@politics-prose.com>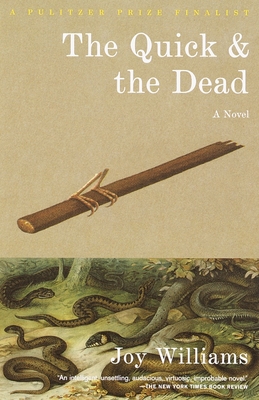 $16.00
In Stock—Click for Locations
Description
---
A Pulitzer Prize Finalist from one of our most heralded writers—the "poetic, disturbing, yet very funny" (The Washington Post Book World) life-and-death adventures of three misfit teenagers in the American desert

Alice, Corvus, and Annabel, each a motherless child, are an unlikely circle of friends. One filled with convictions, another with loss, the third with a worldly pragmatism, they traverse an air-conditioned landscape eccentric with signs and portents—from the preservation of the living dead in a nursing home to the presentation of the dead as living in a wildlife museum—accompanied by restless, confounded adults.

A father lusts after his handsome gardener even as he's haunted (literally) by his dead wife; a heartbroken dog runs afoul of an angry neighbor; a young stroke victim drifts westward, his luck running from worse to awful; a sickly musician for whom Alice develops an attraction is drawn instead toward darker imaginings and solutions; and an aging big-game hunter finds spiritual renewal through his infatuation with an eight-year-old—the formidable Emily Bliss Pickless.

With nature thoroughly routed and the ambiguities of existence on full display, life and death continue in directions both invisible and apparent. Gloriously funny and wonderfully serious, The Quick and the Dead limns the vagaries of love, the thirst for meaning, and the peculiar paths by which all creatures are led to their destiny.

A panorama of contemporary life and an endlessly surprising tour de force: penetrating and magical, ominous and comic, this is the most astonishing book yet in Joy Williams's illustrious career.

Joy Williams belongs, James Salter has written, "in the company of Céline, Flannery O'Connor, and Margaret Atwood." 

About the Author
---
JOY WILLIAMS is the author of four novels—the most recent, The Quick and the Dead, was a runner-up for the Pulitzer Prize in 2001—and four collections of stories, as well as Ill Nature, a book of essays that was a finalist for the National Book Critics Circle Award. Among her many honors are the Rea Award for the Short Story and the Strauss Living Award from the American Academy of Arts and Letters. She was elected to the Academy in 2008. She lives in Tucson, Arizona, and Laramie, Wyoming.
Praise For…
---
"Poetic, disturbing yet very funny…the brilliantly controlled style [is] informed by a powerful spiritual vision."–The Washington Post Book World

"Joy Williams has produced a hard, sharp, comic novel about the off-kilter genius of adolescence–a work of maverick insight and rash and beautiful bursts of language."–Don DeLillo

"Fierce, lively, and shocking…. Possesses a tooth and claw beauty as dangerous and brilliant as a cougar on the move."–The Boston Globe

"An intelligent, unsettling, audacious, virtuosic, improbable novel." –The New York Times Book Review

"So strange and so good . . . so frightening and so comic . . . every single element in it is undomesticated, from the characters to the clauses." –Voice Literary Supplement