LARGESSE OF THE SEA MAIDEN, by Johnson
Tuesday, October 8, 7:00 pm
Evening Fiction Book Group meets 2nd Tuesday of each month at 7:00 p.m. - note: new start time
The oldest of P&P's store sponsored book groups, it was begun by Carla Cohen shortly after the store opened over 25 years ago, when we were still located in the small space across the street. A handful of present members have been coming all these years.
It's a pretty large group, usually between 20 and 30 people. I refer to it sometimes as a "no guilt book group." It's not going to fall apart because you couldn't make it one month. We read a variety of authors and try to represent the diversity of countries and cultures. Some books we've enjoyed discussing include: The In-Between World of Vikram Lall by M.G. Vassanji, Sister of My Heart by Chitra Banerjee Divakaruni, Housekeeping by Marilynne Robinson, Uncle Tom's Cabin by Harriet Beecher Stowe, and Light in August by William Faulkner.
Some books have worked better than others, but the group never fails to manage a lively discussion. If you enjoy reading fiction and like to be surprised by great stories and authors you haven't encountered before, this might be your group.
- Mark LaFramboise <Mark@politics-prose.com>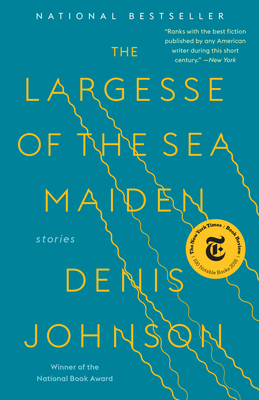 $17.00
In Stock—Click for Locations
February 2018 Indie Next List
---
"Denis Johnson is one of those writers whose work you read, no matter the topic or reviews. Even in his strangest stories, he manages to conjure just the right turns of phrase to put the reader within his wacky world. I was so excited to get my hands on his posthumously published collection of short stories, which reminds me of his breakout collection, Jesus' Son. The stories are wry, expertly written, and laced with similarly hazy, under-the-influence characters. It was bittersweet to read his final published works, but he certainly didn't let us down."
— Courtney Flynn, Trident Booksellers & Cafe, Boston, MA
Description
---
Twenty-five years after Jesus' Son, a haunting new collection of short stories on mortality and transcendence, from National Book Award winner and two-time Pulitzer Prize finalist Denis Johnson

NATIONAL BESTSELLER • NAMED ONE OF THE TEN BEST BOOKS OF THE YEAR BY Dwight Garner, The New York Times • Maureen Corrigan, NPR's Fresh Air • Chicago Tribune • Newsday • New York  • AV Club • Publishers Weekly

"Ranks with the best fiction published by any American writer during this short century."—New York

"A posthumous masterpiece."—Entertainment Weekly

NAMED ONE OF THE BEST BOOKS OF THE YEAR BY The New York Times Book Review • The Washington Post • NPR • The Boston Globe • New York Public Library • Kirkus Reviews • Bloomberg

The Largesse of the Sea Maiden is the long-awaited new story collection from Denis Johnson. Written in the luminous prose that made him one of the most beloved and important writers of his generation, this collection finds Johnson in new territory, contemplating the ghosts of the past and the elusive and unexpected ways the mysteries of the universe assert themselves.

Finished shortly before Johnson's death, this collection is the last word from a writer whose work will live on for many years to come.

Praise for The Largesse of the Sea Maiden

"An instant classic."—Newsday

"Exceptional luminosity . . . hits a powerful vein."—The New York Times Book Review

"Grace and oblivion are inextricably yoked in these transcendent stories. . . . [Johnson's] gift is to extract the beauty in all that brokenness."—The Wall Street Journal

"Nobody ever wrote like Denis Johnson. Nobody ever came close. . . . We're just left with this miraculous book, these perfect stories, the last words from one of the world's greatest writers."—NPR
About the Author
---
Denis Johnson was the author of nine novels, one novella, two books of short stories, five collections of poetry, two collections of plays, and one book of reportage. Among other honors, his novel Tree of Smoke won the 2007 National Book Award and was a finalist for the 2007 Pulitzer Prize, and Train Dreams was a finalist for the 2012 Pulitzer Prize.
Praise For…
---
"These four stories rank with Johnson's best work, but the title story, a catalogue of singular moments related by a man who tells us he's passing through life as if it were a masquerade, ranks with the best fiction published by any American writer during this short century."—New York

"A posthumous masterpiece . . . With this book, Johnson has only cemented his status as one of his generation's greatest writers. . . . Each story in Largesse is weighted by an astonishing humanity, a generosity of spirit that's evened out by lyrical dissections of time's passage and the mysteries of connection. . . . Here's an author turning toward the past, conjuring up the ghosts of those he's loved and lost, writing of wild experiences with affectionate abandon. Few have linked themselves between the reader and the page so intimately—so cosmically—as he does here."—Entertainment Weekly

"An instant classic."—Newsday

"Exceptional luminosity . . . hits a powerful vein."—The New York Times Book Review

"Grace and oblivion are inextricably yoked in these transcendent stories, the testament of a writer who lived and worked on unusually close terms with death, until that great mystery finally stole him. . . . [Johnson's] gift is to extract the beauty in all that brokenness. . . . Though these are longer, fuller, rangier stories than the strobing fever dreams of Jesus' Son, they possess the same incredible emotional density. They feel squeezed, to borrow Johnson's phrase, 'in the almighty grip of the truth.'"—The Wall Street Journal

"Nobody ever wrote like Denis Johnson. Nobody ever came close . . . We're just left with this miraculous book, these perfect stories, the last words from one of the world's greatest writers."—NPR

"Johnson offers visions and sadness and laughter. But it's the sentences—those adamantine, poetic sentences—that made him one of America's great and lasting writers. It's the sentences that live on."—The Boston Globe

"Johnson's fiction . . . overflows with creative energy, moving from one beauty to another with a mercurial, at times almost chaotic grace. Although his characters are often diminished and winnowed by their struggles with life, the narrative voice that describes their travails gives evidence of an imagination that is nearly boundless in its generosity and abundance."—Chicago Tribune

"Sly, open-ended, and meticulously wise . . . Johnson, in all his work, aimed to locate the hidden, actual face of things. But the new stories build without those miraculous balls of hail, and their truths are necessarily deeper, and more precise. . . . [Johnson] is a writer whose ambitions were in their own way as broad and burgeoning as Dostoyevsky's. He is for all time."—Rachel Kushner, Bookforum

"A final gift from a master."—BOMB Magazine

"Denis Johnson's posthumous collection winks from beyond the grave. . . . Johnson told aspiring authors to write as if ink were blood, because it is precious. So are farewells like this. . . . It is a vital addition to Johnson's oeuvre."—Time