THE EMISSARY, by Tawada
Tuesday, August 13, 7:00 pm
Evening Fiction Book Group meets 2nd Tuesday of each month at 7:00 p.m. - note: new start time
The oldest of P&P's store sponsored book groups, it was begun by Carla Cohen shortly after the store opened over 25 years ago, when we were still located in the small space across the street. A handful of present members have been coming all these years.
It's a pretty large group, usually between 20 and 30 people. I refer to it sometimes as a "no guilt book group." It's not going to fall apart because you couldn't make it one month. We read a variety of authors and try to represent the diversity of countries and cultures. Some books we've enjoyed discussing include: The In-Between World of Vikram Lall by M.G. Vassanji, Sister of My Heart by Chitra Banerjee Divakaruni, Housekeeping by Marilynne Robinson, Uncle Tom's Cabin by Harriet Beecher Stowe, and Light in August by William Faulkner.
Some books have worked better than others, but the group never fails to manage a lively discussion. If you enjoy reading fiction and like to be surprised by great stories and authors you haven't encountered before, this might be your group.
- Mark LaFramboise <Mark@politics-prose.com>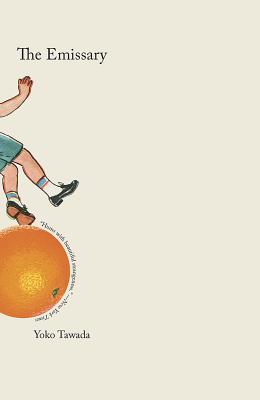 $14.95
In Stock—Click for Locations
Description
---
Winner of 2018 National Book Award in Translated Literature

Library Journal Best Books of 2018
Yoko Tawada's new novel is a breathtakingly light-hearted meditation on mortality and fully displays what Rivka Galchen has called her "brilliant, shimmering, magnificent strangeness"
Japan, after suffering from a massive irreparable disaster, cuts itself off from the world. Children are so weak they can barely stand or walk: the only people with any get-go are the elderly. Mumei lives with his grandfather Yoshiro, who worries about him constantly. They carry on a day-to-day routine in what could be viewed as a post-Fukushima time, with all the children born ancient—frail and gray-haired, yet incredibly compassionate and wise. Mumei may be enfeebled and feverish, but he is a beacon of hope, full of wit and free of self-pity and pessimism. Yoshiro concentrates on nourishing Mumei, a strangely wonderful boy who offers "the beauty of the time that is yet to come."
A delightful, irrepressibly funny book, The Emissary is filled with light. Yoko Tawada, deftly turning inside-out "the curse," defies gravity and creates a playful joyous novel out of a dystopian one, with a legerdemain uniquely her own.
About the Author
---
Yoko Tawada writes in both Japanese and German and has received the Akutagawa, Lessing, Noma, Adelbert von Chamisso and Tanizaki prizes. Last year her novel The Emissary won the National Book Award.

Margaret Mitsutani is a translator of Yoko Tawada and Japan's 1994 Nobel Prize laureate Kenzaburo Oe.
Praise For…
---
Near-future Japan has been cut off from the outside world, leaving 108-year-old Yoshiro trapped with his great-grandson Mumei in a spartan "temporary" house. The population is divided between those born before the calamity—whose life spans have been mysteriously lengthened—and those enfeebled by it: "The aged could not die; along with the gift of everlasting life, they were burdened with the terrible task of watching their great-grandchildren die." Tawada's novel is infused with the anxieties of a 'society changing at the speed of pebbles rolling down a steep hill,' yet she imagines a ruined world with humor and grace.

Tawada, who writes in both Japanese and German, uses a light tone that frequently leans into gentle abstraction and wry humor, producing a slim novel that charms as much as it provokes reflection.
— Kiri Falls

Recessive, lunar beauty [with] a high sheen. Her language has never been so arresting—flickering brilliance.
— Parul Sehgal

Persistent mystery is what is so enchanting about Tawada's writing. Her penetrating irony and deadpan surrealism fray our notions of home and combine to deliver another offbeat tale. An absorbing work from a fascinating mind.

The Emissary carries us beyond the limits of what is it is to be human, in order to remind us of what we must hold dearest in our conflicted world, our humanity.

— Sjón

A mini-epic of eco-terror, family drama and speculative fiction. Tawada's interest is satirical as much as tragic, with public holidays chosen by popular vote (Labour Day becomes Being Alive Is Enough Day) and a privatized police force whose activities now centre on its brass band. It's this askew way of looking at things amid the ostensibly grim premise, and a sprightly use of language that makes The Emissary a book unlike any other.

"Like sashimono woodwork, Tawada needs no exposition to nail down her dystopia. The Emissary achieves a technically impossible balance of open-hearted fable and cold-blooded satire."


An airily beautiful dystopian novella about mortality. Tawada's quirky style and ability to jump from realism to abstraction manages to both chastise humanity for the path we are taking towards destruction and look hopefully toward an unknown future.
— Enobong Essien

A phantasmagoric representation of humanity's fraught relationship with technology and the natural world.
— Brian Haman

Charming, light, and unapologetically strange...There's an impish delight in [each] sentence that energizes what is otherwise a despairing note. Tawada finds a way to make a story of old men trapped in unending life and children fated to die before their time joyful, comic, and—frankly—a huge comfort.
— J.W. McCormack

A Hieronymus Bosch–like painting in novel form. Tawada's charming surrealism imparts an off-kilter quality to her work that would make it feel slight, if it weren't for the density, precision, and uniqueness of her mind. A slim and beguiling novel in Margaret Mitsutani's enchanting and flawless translation.
— Marie Mutsuki Mockett

"Everywhere in the Japan of Yoko Tawada's The Emissary, strange mutations unfold. In the years (perhaps decades, or perhaps generations) since an environmental catastrophe, the basic tenets of biology have broken down. Children are born weak, with birdlike bones and soft teeth. The elderly, in turn, are youthful, athletic, seem to have been 'robbed of death'. Men begin to experience menopausal symptoms as they age. Everyone's sex changes inexplicably and at random at least once in their lives...Tawada has gifted us a quiet new magical realism for the Anthropocene."

— Rebecca Bates