A DIFFERENT DRUMMER, by Kelley NOTE: Meeting Online
Tuesday, December 8, 7:00 pm
Evening Fiction Book Group meets 2nd Tuesday of each month at 7 p.m. Meeting Online. Please email bookgroups@politics-prose.com to sign up for online info.
The oldest of P&P's store sponsored book groups, it was begun by Carla Cohen shortly after the store opened over 30 years ago, when we were still located in the small space across the street. A handful of present members have been coming all these years.
It's a pretty large group, usually between 20 and 30 people. I refer to it sometimes as a "no guilt book group." It's not going to fall apart because you couldn't make it one month. We read a variety of authors and try to represent the diversity of countries and cultures. Some books we've enjoyed discussing include: The In-Between World of Vikram Lall by M.G. Vassanji, Sister of My Heart by Chitra Banerjee Divakaruni, Housekeeping by Marilynne Robinson, Uncle Tom's Cabin by Harriet Beecher Stowe, and Light in August by William Faulkner.
Some books have worked better than others, but the group never fails to manage a lively discussion. If you enjoy reading fiction and like to be surprised by great stories and authors you haven't encountered before, this might be your group.
- Mark LaFramboise <Mark@politics-prose.com>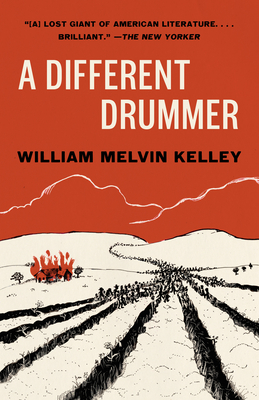 $16.00
In Stock—Click for Locations
Description
---
The stunning, thought-provoking first novel by a "lost giant of American literature" (The New Yorker)

June, 1957. One hot afternoon in the backwaters of the Deep South, a young black farmer named Tucker Caliban salts his fields, shoots his horse, burns his house, and heads north with his wife and child. His departure sets off an exodus of the state's entire black population, throwing the established order into brilliant disarray. Told from the points of view of the white residents who remained, A Different Drummer stands, decades after its first publication in 1962, as an extraordinary and prescient triumph of satire and spirit.
About the Author
---
William Melvin Kelley was born in New York City in 1937 and attended the Fieldston School and Harvard. The author of four novels and a short story collection, he was a writer in residence at the State University of New York at Geneseo and also taught at the New School and Sarah Lawrence College. He was awarded the Anisfield-Wolf Book Award for lifetime achievement and the Dana Reed Prize for creative writing. He died in 2017.
Praise For…
---
"[A] lost giant of American literature. . . . Brilliant." —The New Yorker

"A work of deep originality and superior craftsmanship whose treatment of racial politics resists ideological classification. . . . A potent brew of mythology, gossip, history, political argument and family drama. . . . A Different Drummer is animated by a force so immense, and fed by so much history, that it transcends encapsulation." —The Wall Street Journal

"This fierce and brilliant novel is written with sympathy as well as sorrow. It's a myth packed with real-world resonance." —The Guardian
 
"Radical and important." —Financial Times
 
"Kelley blended fantasy and fact to construct an alternative world whose sweep and complexity drew comparisons to James Joyce and William Faulkner." —The New York Times
 
"A rare first novel; dynamic, imaginative, and accomplished." —Chicago Sunday Tribune

"Powerful. . . . Unflinching. . . . A gift to literature." —The Observer

"So brilliant is this initial novel that one must consider Mr. Kelley for tentative future placement among the paragons of American letters." —Boston Sunday Herald

"Beautifully written and thought-provoking." —Baltimore Evening Sun

"This first novel just perhaps could play a part in changing our history." —Kansas City Star

"An astounding achievement . . . Timeless, mythic. . . . Still relevant and powerful today." —The Sunday Times (London)

"Breathtakingly good. . . . Must be one of the most assured debuts of all time." —Sjón, author of CoDex 1962

"An imaginative, brilliantly observed world of the 20th-century Deep South in turmoil. . . . Kelley delivers his observations with caustic humour and surprising compassion. The comparisons of his debut to the books of James Baldwin and Faulkner are justified." —The Irish Times

"A rediscovered classic of African American literature. . . . A powerful novel that weaves intricate themes like racism, systemized oppression and identity together." —Bookriot