CONVERSATIONS WITH FRIENDS, by Rooney NOTE: Meeting Online starting in October
Tuesday, October 13, 7:00 pm
Evening Fiction Book Group meets 2nd Tuesday of each month at 7 p.m. Meeting Online. Please email bookgroups@politics-prose.com to sign up for online info.
The oldest of P&P's store sponsored book groups, it was begun by Carla Cohen shortly after the store opened over 30 years ago, when we were still located in the small space across the street. A handful of present members have been coming all these years.
It's a pretty large group, usually between 20 and 30 people. I refer to it sometimes as a "no guilt book group." It's not going to fall apart because you couldn't make it one month. We read a variety of authors and try to represent the diversity of countries and cultures. Some books we've enjoyed discussing include: The In-Between World of Vikram Lall by M.G. Vassanji, Sister of My Heart by Chitra Banerjee Divakaruni, Housekeeping by Marilynne Robinson, Uncle Tom's Cabin by Harriet Beecher Stowe, and Light in August by William Faulkner.
Some books have worked better than others, but the group never fails to manage a lively discussion. If you enjoy reading fiction and like to be surprised by great stories and authors you haven't encountered before, this might be your group.
- Mark LaFramboise <Mark@politics-prose.com>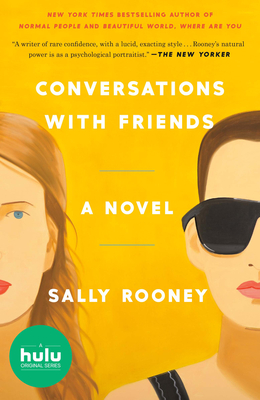 $17.00
In Stock—Click for Locations
Description
---
"[A] cult-hit . . . [a] sharply realistic comedy of adultery and friendship."—Entertainment Weekly
 
SALLY ROONEY NAMED TO THE 2019 TIME 100 NEXT LIST • WINNER OF THE SUNDAY TIMES (UK) YOUNG WRITER OF THE YEAR AWARD • ONE OF BUZZFEED'S BEST BOOKS OF THE DECADE • NAMED ONE OF THE TEN BEST BOOKS OF THE YEAR BY VOGUE AND SLATE AND ONE OF THE BEST BOOKS OF THE YEAR BY BUZZFEED AND ELLE

Frances is a coolheaded and darkly observant young woman, vaguely pursuing a career in writing while studying in Dublin. Her best friend is the beautiful and endlessly self-possessed Bobbi. At a local poetry performance one night, they meet a well-known photographer, and as the girls are then gradually drawn into her world, Frances is reluctantly impressed by the older woman's sophisticated home and handsome husband, Nick. But however amusing Frances and Nick's flirtation seems at first, it begins to give way to a strange—and then painful—intimacy.

Written with gemlike precision and marked by a sly sense of humor, Conversations with Friends is wonderfully alive to the pleasures and dangers of youth, and the messy edges of female friendship.

SHORTLISTED FOR THE INTERNATIONAL DUBLIN LITERARY AWARD

"Sharp, funny, thought-provoking . . . a really great portrait of two young women as they're figuring out how to be adults."—Celeste Ng, "Late Night with Seth Meyers Podcast"

"The dialogue is superb, as are the insights about communicating in the age of electronic devices. Rooney has a magical ability to write scenes of such verisimilitude that even when little happens they're suspenseful."—Curtis Sittenfeld, The Week

"Rooney has the gift of imbuing everyday life with a sense of high stakes . . . a novel of delicious frictions."—New York

"A writer of rare confidence, with a lucid, exacting style . . . One wonderful aspect of Rooney's consistently wonderful novel is the fierce clarity with which she examines the self-delusion that so often festers alongside presumed self-knowledge. . . . But Rooney's natural power is as a psychological portraitist. She is acute and sophisticated about the workings of innocence; the protagonist of this novel about growing up has no idea just how much of it she has left to do."—Alexandra Schwartz, The New Yorker

"This book. This book. I read it in one day. I hear I'm not alone."—Sarah Jessica Parker (Instagram)
About the Author
---
Sally Rooney was born in the west of Ireland in 1991. Her work has appeared in The New Yorker, The New York Times, Granta and The London Review of Books. Winner of the Sunday Times Young Writer of the Year Award, she is the author of Conversations with Friends. In 2019, she was named to the inaugural Time 100 Next list.
Praise For…
---
Praise for Conversations with Friends:

A Publishers Weekly Pick of the Week
Vogue's 10 Best Books of 2017 
Slate's 10 Favorite Books of the Year 
Elle's Best Books of the Year 
The Cut's Best Books by Women
Vulture's "Best New Paperbacks"

"A writer of rare confidence, with a lucid, exacting style… [O]ne wonderful aspect of Rooney's consistently wonderful novel is the fierce clarity with which she examines the self-delusion that so often festers alongside presumed self-knowledge… But Rooney's natural power is as a psychological portraitist. She is acute and sophisticated about the workings of innocence; the protagonist of this novel about growing up has no idea just how much of it she has left to do."
– The New Yorker

"Rooney has the gift of imbuing everyday life with a sense of high stakes…a novel of delicious frictions."
– New York Magazine

"I love debuts where you just can't believe that it was a debut… Conversations with Friends paints a nuanced, page-turning portrait of a whip-smart university student in the throes of an affair with an older married man."
– Zadie Smith, Elle 

"The dialogue is superb, as are the insights about communicating in the age of electronic devices. Rooney has a magical ability to write scenes of such verisimilitude that even when little happens they're suspenseful."
– Curtis Sittenfeld, The Week

"Sharp, funny, thought-provoking . . . a really great portrait of two young women as they're figuring out how to be adults."
– Celeste Ng, "Late Night with Seth Meyers Podcast" 

"This book. This book. I read it in one day. I hear I'm not alone."
– Sarah Jessica Parker (Instagram)

"The self-deceptions of a new generation are at the core of Sally Rooney's debut, Conversations With Friends (Hogarth), which captures something wonderfully odd-cornered and real in the story of an Irish millennial…"
– Megan O'Grady, Vogue's 10 Best Books of 2017

"The debut novel of a young Irish writer whose forthcoming novel Normal People earned her rave reviews and a Booker Prize nomination, Conversations With Friends is one of those campus novels in which all of the real education takes place off campus. When two young women, best friends but former lovers, become friendly with an older married couple, their lives intertwine and explode in a coming-of-age story that's weightier and wiser than you might expect."
– Maris Kreizman, Vulture's "Best New Paperbacks" column

"[A] bracing, miraculous debut."
– The Millions

"Sally Rooney's debut novel is a remarkably charming exploration of that very uncharming subject: the human ego…Conversations With Friends sparkles with controlled rhetoric. But it ends up emphasizing the truths exploding in the silences."
– Slate

"In this searing, insightful debut, Rooney offers an unapologetic perspective on the vagaries of relationships… a treatise on married life, the impact of infidelity, the ramifications of one's actions, and how the person one chooses to be with can impact one's individuality. Throughout, Rooney's descriptive eye lends beauty and veracity to this complex and vivid story."
– Publishers Weekly (starred)

"Readers who enjoyed Belinda McKeon's Tender and Caitriona Lally's Eggshells will enjoy this exceptional debut."
– Library Journal (starred)

"A smart, sexy, realistic portrayal of a woman finding herself."
– Booklist (starred)

"An astonishing assured debut."
– The Bookseller 

"The book of the summer...the wider issues underscoring her book – including race, sex and gender – which in her careful treatment, emerge far more complex and often funnier, than we could have ever imagined." 
– Refinery29

"A very funny, very humanly messy tale of sexual and artistic self-discovery in which every page reveals shrewd emotional insight. Caught between laser-eyed irony and heart-melting sincerity, the book is a masterclass in narrative tone that left me desperate to read whatever Rooney writes next... ​An addictive, funny and truthful first novel about love and literature​.​"
– Metro 

"[Sally] Rooney has managed to take something old, the romance novel, and make it new: Frances is a bisexual communist student, allergic to expressing emotion, and her love affair is with a married man, and yet the book makes no attempt to make a moral stand on fidelity or punish its characters for their passions. The effect is, frankly, riveting, and creates a peculiar sensation of danger…An addictive read."
– Rufi Thorpe, author of The Girls From Corona del Mar and Dear Fang, With Love

"Sally Rooney's writing is cool, wry and smooth, and gives the reader a sense of being in the lucky position of overhearing not only what fascinating strangers are talking about, but also what they're thinking. I was riveted til the last page." 
– Emily Gould, author of Friendship

"Fascinating, ferocious and shrewd. Sally Rooney has the sharpest eye for all of the most delicate cruelties of human interaction."
– Lisa McInerney, author of The Glorious Heresies (winner of the Baileys Women's Prize for Fiction)

"[Sally] Rooney captures the mood and voice of contemporary women and their interpersonal connections and concerns without being remotely predictable…A clever and current book about a complicated woman and her romantic relationships."
- Kirkus 

"Rooney writes so well of the condition of being a young, gifted but self-destructive woman, both the mentality and physicality of it. She is alert to the invisible bars imprisoning the apparently free. Though herself young – she was born in 1991 – she has already been shortlisted for this year's Sunday Times EFG short story award. Her hyperarticulate characters may fail to communicate their fragile selves, but Rooney does it for them in a voice distinctively her own."
- The Guardian

"A novelist to watch: An addictive debut, with nods to Tender is the Night, heralds a bright new talent."
- Sunday Times

"A contemporary love story so powerful, graceful and honest it left me reeling. [Conversations with Friends] is, by turns, astonishing, heart-rending and perfect; there's not a word out of place."
– Luke Kennard, author of The Transition

"Sally Rooney is a writer going all the way to the top. Conversations with Friends features the 21st century, Irish descendents of Salinger's guileless wiseasses brought to life in prose as taut and coolly poised as early Bret Easton Ellis."
– Colin Barrett, author of Young Skins

"There's not a beat out of place in Sally Rooney's astonishingly poised writing. Conversations with Friends is the most sophisticated and perceptive novel I've read about relationships in the 2010s."
– Gavin Corbett, author of This Is The Way and Green Glowing Skull

"Written with such precision and perceptiveness, full of arid humour and reckless despair, a novel of spine-tingling salience."
– Sara Baume, author of Spill Simmer Falter Wither and winner of the 2015 Geoffrey Faber Memorial Prize