LIVES OF THE EMINENT PHILOSOPHERS, by Laertius
The Classics Book Group is led by Rhoda Mancher and meets the 1st Monday of each month at 7:30 p.m. Note: meeting online and please contact: bookgroups@politics-prose.com for more info.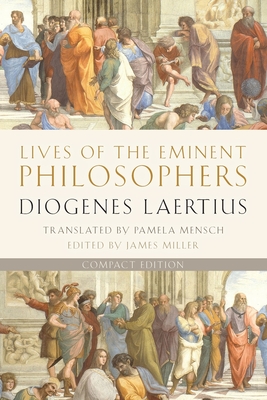 $19.95
In Stock—Click for Locations
Description
---
Everyone wants to live a meaningful life. Long before our own day of self-help books offering twelve-step programs and other guides to attain happiness, the philosophers of ancient Greece explored the riddle of what makes a life worth living, producing a wide variety of ideas and examples to follow. This rich tradition was recast by Diogenes Laertius into an anthology, a miscellany of maxims and anecdotes, that generations of Western readers have consulted for edification as well as entertainment ever since the Lives of the Eminent Philosophers, first compiled in the third century AD, came to prominence in Renaissance Italy. To this day, it remains a crucial source for much of what we know about the origins and practice of philosophy in ancient Greece, covering a longer period of time and a larger number of figures-from Pythagoras and Socrates to Aristotle and Epicurus-than any other ancient source.

About the Author
---
Diogenes Laertius was a Greek writer who probably lived in the first half of the third century AD. Nothing is known about his life, apart from his authorship of the Lives of the Eminent Philosophers. He also wrote poems, most of them now lost. Pamela Mensch is a translator of ancient Greek whose works include The Landmark Arrian: The Campaigns of Alexander, Herodotus' Histories, and Plutarch's The Age of Caesar: Five Roman Lives. James Miller is Professor of Liberal Studies and Politics and Faculty Director of Creative Publishing & Critical Journalism at the New School for Social Research. He has authored and edited an array of works, including Examined Lives: From Socrates to Nietzsche, The Passion of Michel Foucault, and History and Human Existence: From Marx to Merleau-Ponty.