TRANSGENDER HISTORY, by Stryker NOTE: Meeting Online
Sunday, February 14, 5:00 pm
The Bipartisan Book Group is a group of self-identified liberals and conservatives attempting to bridge the partisan divide by having civilized discussions about controversial topics. Each month, group members read a book about a sensitive political issue – guns, immigration, race, the state of liberal democracy, alienation in America – and share views about the book and relevant personal experiences. Examples of the titles of books read so far include Rising Out of Hatred (Eli Saslow), Melting Pot or Civil War? (Reihan Salam), The Gun Debate (Philip Cook, Kristin Goss), and Alienated America (Timothy Carney).
The goal of the group is not conversion but conversation and understanding. We're not aiming to determine winners or losers but to create opportunities for people to speak freely with each other over matters about which they disagree. We want to establish a space where people can step outside their echo chambers and engage with, and more fully comprehend, those with differing points of view. We prize respectful engagement on difficult subjects.
If you're interested, please join us!
Note: meeting online and please contact Hollis Chen hollissimo@yahoo.com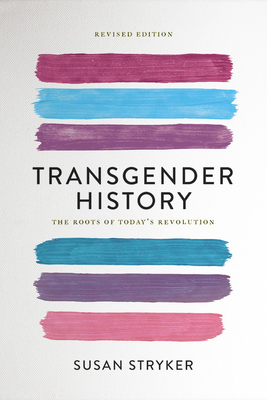 List Price: $18.99
Our Price: $17.99
(Save: $1.00 5%)
In Stock—Click for Locations
Description
---
Covering American transgender history from the mid-twentieth century to today, Transgender History takes a chronological approach to the subject of transgender history, with each chapter covering major movements, writings, and events. Chapters cover the transsexual and transvestite communities in the years following World War II; trans radicalism and social change, which spanned from 1966 with the publication of The Transsexual Phenomenon, and lasted through the early 1970s; the mid-'70s to 1990-the era of identity politics and the changes witnessed in trans circles through these years; and the gender issues witnessed through the '90s and '00s.

Transgender History includes informative sidebars highlighting quotes from major texts and speeches in transgender history and brief biographies of key players, plus excerpts from transgender memoirs and discussion of treatments of transgenderism in popular culture.
About the Author
---
Susan Stryker is Associate Professor of Gender and Women's Studies, as well as the former director of the Institute for LGBT Studies at the University of Arizona. She is the author of many articles and several books on transgender and queer topics. She won a Lambda Literary Award for the anthology The Transgender Studies Reader (Routledge), and an Emmy Award for the documentary film Screaming Queens: The Riot at Compton's Cafeteria (Frameline/ITVS).
Praise For…
---
"This timely and relevant book should be required reading."
—
Portland Book Review
"An invaluable text for anyone who wants to better understand evolving concepts of gender. Essential."
—
CHOICE
"Ground-breaking and all-around excellent"
—
Autostraddle