PEOPLE, POWER, AND PROFITS, by Stiglitz
The Bipartisan Book Group is a group of self-identified liberals and conservatives attempting to bridge the partisan divide by having civilized discussions about controversial topics. Each month, group members read a book about a sensitive political issue – guns, immigration, race, the state of liberal democracy, alienation in America – and share views about the book and relevant personal experiences. Examples of the titles of books read so far include Rising Out of Hatred (Eli Saslow), Melting Pot or Civil War? (Reihan Salam), The Gun Debate (Philip Cook, Kristin Goss), and Alienated America (Timothy Carney).
The goal of the group is not conversion but conversation and understanding. We're not aiming to determine winners or losers but to create opportunities for people to speak freely with each other over matters about which they disagree. We want to establish a space where people can step outside their echo chambers and engage with, and more fully comprehend, those with differing points of view. We prize respectful engagement on difficult subjects.
The group meets every first Sunday of each month at 5 p.m.. If you're interested, please join us!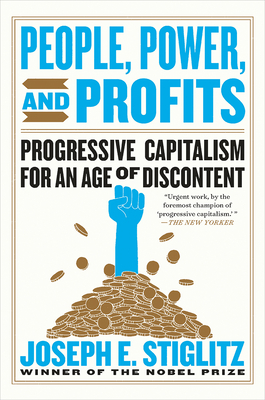 $17.95
In Stock—Click for Locations
Description
---
"Urgent work, by the foremost champion of 'progressive capitalism.' " —The New Yorker
An authoritative account of the dangers of unfettered markets and monied politics, People, Power, and Profits shows us an America in crisis. The American people, however, are far from powerless, and Joseph Stiglitz provides an alternative path forward through his vision of progressive capitalism, with a comprehensive set of political and economic changes.
About the Author
---
Joseph E. Stiglitz is a Nobel Prize–winning economist and the best-selling author of Globalization and Its Discontents Revisited: Anti- Globalization in the Age of Trump, The Price of Inequality, and Freefall. He was chairman of the Council of Economic Advisers under President Clinton, chief economist of the World Bank, named by Time as one of the 100 most influential individuals in the world, and now teaches at Columbia University and is chief economist of the Roosevelt Institute.
Praise For…
---
The policy shop of every 2020 Democratic candidate for president would be wise to pore over People, Power, and Profits and cherry-pick its best ideas.


Stiglitz offers a comprehensive list of easy-to-understand progressive remedies that will find favor with many readers.

[Joseph Stiglitz] is an insanely great economist.
— Paul Krugman

Along with Krugman and Thomas Piketty, Stiglitz forms a triumvirate of leading economic critics of global capitalism, 21st century-style.
— Andrew Anthony