COMING APART, by Murray NOTE: Meeting Online
Sunday, October 25, 5:00 pm
The Bipartisan Book Group is a group of self-identified liberals and conservatives attempting to bridge the partisan divide by having civilized discussions about controversial topics. Each month, group members read a book about a sensitive political issue – guns, immigration, race, the state of liberal democracy, alienation in America – and share views about the book and relevant personal experiences. Examples of the titles of books read so far include Rising Out of Hatred (Eli Saslow), Melting Pot or Civil War? (Reihan Salam), The Gun Debate (Philip Cook, Kristin Goss), and Alienated America (Timothy Carney).
The goal of the group is not conversion but conversation and understanding. We're not aiming to determine winners or losers but to create opportunities for people to speak freely with each other over matters about which they disagree. We want to establish a space where people can step outside their echo chambers and engage with, and more fully comprehend, those with differing points of view. We prize respectful engagement on difficult subjects.
The group meets every first Sunday of each month at 5 p.m. Note date change for October online meeting. If you're interested, please join us!
Note: meeting online and please contact Hollis Chen hollissimo@yahoo.com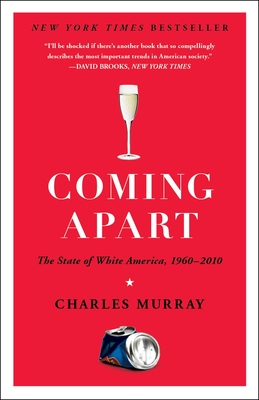 $18.00
In Stock—Click for Locations
Description
---
NEW YORK TIMES BESTSELLER • A fascinating explanation for why white America has become fractured and divided in education and class, from the acclaimed author of Human Diversity.

"I'll be shocked if there's another book that so compellingly describes the most important trends in American society."—David Brooks, New York Times

In Coming Apart, Charles Murray explores the formation of American classes that are different in kind from anything we have ever known, focusing on whites as a way of driving home the fact that the trends he describes do not break along lines of race or ethnicity.

Drawing on five decades of statistics and research, Coming Apart demonstrates that a new upper class and a new lower class have diverged so far in core behaviors and values that they barely recognize their underlying American kinship—divergence that has nothing to do with income inequality and that has grown during good economic times and bad.

The top and bottom of white America increasingly live in different cultures, Murray argues, with the powerful upper class living in enclaves surrounded by their own kind, ignorant about life in mainstream America, and the lower class suffering from erosions of family and community life that strike at the heart of the pursuit of happiness. That divergence puts the success of the American project at risk.

The evidence in Coming Apart is about white America. Its message is about all of America.
About the Author
---
Charles Murray is the W. H. Brady Scholar at the American Enterprise Institute. He first came to national attention in 1984 with Losing Ground. His subsequent books include In Pursuit, The Bell Curve (with Richard J. Herrnstein), What It Means to Be a Libertarian, Human Accomplishment, In Our Hands, and Real Education. He received a bachelor's degree in history from Harvard and a Ph.D. in political science from the Massachusetts Institute of Technology. He lives with his wife in Burkittsville, Maryland.
Praise For…
---
"Mr. Murray's sobering portrait is of a nation where millions of people are losing touch with the founding virtues that have long lent American lives purpose, direction and happiness."—W. Bradford Wilcox, The Wall Street Journal

"Coming Apart brims with ideas about what ails America."—The Economist

"A timely investigation into a worsening class divide no one can afford to ignore."—Publishers Weekly 

"[Charles Murray] argues for the need to focus on what has made the U.S. exceptional beyond its wealth and military power . . . religion, marriage, industriousness, and morality."—Booklist (starred review)

"[Charles Murray] has written an incisive, alarming, and hugely frustrating book about the state of American society."—Roger Lowenstein, Bloomberg Businessweek