From the opening page of The Little Red Cat Who Ran Away and Learned His ABC's (the Hard Way) (Little, Brown, $17.99), it's clear that readers are in for a wild adventure. As the titular cat runs out the door, he encounters an alligator, then a bear, then a chicken: with each successive creature, the daring feline moves one letter further along in the alphabet. This race through the animal kingdom invites grownups and alphabet neophytes alike to guess what author/illustrator Patrick McDonnell will come up with for the next letter, and find themselves surprised at every turn. Ages 4-9.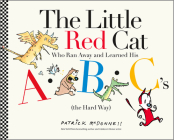 $17.99
ISBN: 9780316502467
Availability: In Stock—Click for Locations
Published: Little, Brown Books for Young Readers - September 5th, 2017
---
As a skater zooms across the page, the only other elements depicted are the Lines (Chronicle, $17.99) that trace her path across the ice. This minimal approach beautifully represents the skater's flowing movements, but then the graceful figure falls in the midst of a complicated move. The next page shows a crumpled piece of paper. From this point forward, Suzy Lee transforms this wordless picture book into a meditation on the process of creating art, making this charming book into a great one. Ages 5-8.

$17.99
ISBN: 9781452156651
Availability: In Stock—Click for Locations
Published: Chronicle Books - September 5th, 2017
---
In the waters off the coast of an unnamed Latin American country, Abelardo and his father find a whale tangled in their fishing nets. Author/illustrator Mordecai Gerstein depicts both the boy's worry about the whale and his father's frustration that their net, an essential tool in their trade, will have to be sacrificed, but ultimately the boy's compassion for another living being wins out. As his father goes to search for a new net, Abelardo dives under the water to cut the nets and free the whale. When The Boy and the Whale (Roaring Brook, $17.99) come face to face, Gerstein achieves one of the most powerful moments of this immensely emotional tale. Ages 5-8.

$17.99
ISBN: 9781626725058
Availability: Coming Soon—Pre-Order Now
Published: Roaring Brook Press - November 21st, 2017
---
Pages