LOUDON WAINWRIGHT III BOOK TALK (AND SONGS) NEXT WEDNESDAY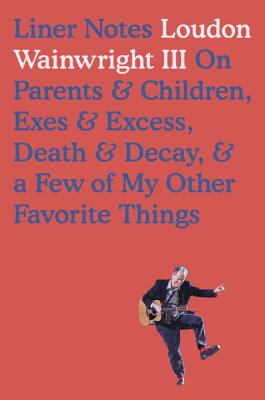 Next Wednesday, September 6, at 7 p.m., singer/songwriter/actor Loudon Wainwright III will talk about his brand new memoir, LINER NOTES: On Parents & Children, Exes & Excess, Death & Decay & a Few of My Other Favorite Things (Blue Rider, $27), and probably sing some of his (very autobiographical) songs as well. Like his songs, his memoir is, by turns, funny, biting, ironic—and stingingly honest. The memoir also includes many apposite lyrics from his songs, as well as a few Life Magazine columns written by his father.
We will also have a few of Mr. Wainwright's albums for sale, including his two most recent, OLDER THAN MY OLD MAN NOW (Story Sound, $16.99) and HAVEN'T GOT THE BLUES (YET) (429 Records, $15.98).
A NEW BILL EVANS TRIO (PART 2)
Last fall, Resonance Records released a never-before issued 1968 studio session that the pianist Bill Evans did with his trio featuring Eddy Gomez on bass and Jack DeJohnette on drums, called Some Other Time: The Lost Session from the Black Forest. That particular trio was only together for six months, before DeJohnette left to work with Miles Davis, and released only one official LP, recorded live in Montreux. A year later, another unissued session—this time a live radio broadcast recorded in the Netherlands—is out, Another Time: The Hilversum Concert (Resonance Records, $18.98). The recording has superb audio, and as Gomez says in the liner notes, comparing the studio an live dates, "it seems a little brighter. A little airier. A little more outgoing." The CD comes with a 36-page booklet with essays by Dutch journalist Bert Vuijsje, interviews with Gomez, DeJohnette, and pianist Steve Kuhn, and more.
NEW CLASSICAL
TERRY RILEY: DARK QUEEN MANTRA (Sono Luminus, $15.99) – Composer Terry Riley has a special affinity with the string quartet, and now the Del Sol String Quartet—celebrating 25 years as a group—has taken up his exciting work. Their new CD includes Dark Queen Mantra (2015)—commissioned by the Quartet—and performed with guitarist Gyan Riley (son of Terry). The piece was inspired by Spanish music and the paintings of Goya. The Quartet also plays Riley's The Wheel & Mythic Birds Waltz (1983). Those pieces are juxtaposed with Mas Lugares (After Monteverdi's Madrigali) by the double-bass virtuoso and composer Stefano Scodanibbio (1956 – 2012).
MENDELSSOHN: VIOLIN CONCERTO, SYMPHONY NO. 5 (Harmonia Mundi, $18.98) – Conductor Pablo Heras-Casado and the Freiburg Baroque Orchestra have embarked on fascinating excursion into 19th-century repertoire recently—on three Schumann recordings with violinist Isabelle Faust, among others, and two Mendelssohn orchestral discs. Now Ms. Faust and the Orchestra collaborate on Mendelssohn's Violin Concerto with special attention to period literature and scores detailing violin techniques of the times: less vibrato, more expressive slides, for instance. The album also includes The Hebrides – Concert Overture, and the Symphony No. 5, "Reformation."
Steven Isserlis, HAYDN & C.P.E. BACH: CELLO CONCERTOS (Hyperion, $18.98) – Cellist Steven Isserlis makes his conducting debut, with the Deutsche Kammerphilharmonie Bremen. Besides Haydn's Cello Concertos in C Major and D Major and C.P.E. Bach's Cello Concerto in A Major, the album features two rococo encores: Mozart's Geme la Tortorella from La Finta Giardiniera, and Boccherini's Adagio from his Cello Concerto in G major.
NOTE: In late October, be on the lookout for a witty book edited and annotated by Steven Isserlis, Robert Schumann's Advice to Young Musicians (University of Chicago Press).
MOZART VIOLIN SONATAS (Hyperion, $18.98) – Volume Four of the project by Alina Ibragimova, violin and Cédric Tiberghien, piano
Sit Fast, Dowland & Benjamin (Evidence Records, $20.98) – The viol consort Sit Fast juxtaposes the seven pavanes of John Dowland's Lachrimae with contemporary composer George Benjamin's Upon Silence for five viols and soprano. Benjamin's piece is a setting of a poem by William Butler Yeats, and is sung by soprano Sarah Breton.