Upcoming event: Lion Songs & Thomas Mapfuno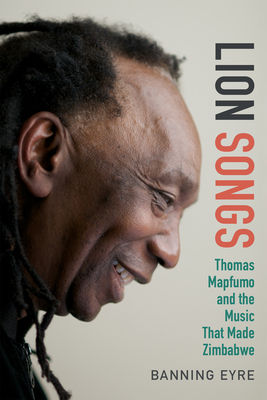 On Tuesday, May 19, at the Brookland Busboys & Poets at 6:30, author, radio producer, and musician Banning Eyre will talk about his new book, Lion Songs: Thomas Mapfumo and the Music That Made Zimbabwe (Duke University Press, $34.95). Mapfumo created a new musical genre, called chimurenga, incorporating the traditional Zimbabwean mbira, and was closely identified with the country's freedom struggle in the 1970s. Later, he went into exile, and is now living in the U.S. Banning Eyre (producer for the radio show, Afropop Worldwide) has known Mapfumo for over 25 years, and has toured with and played in his band.
The audio companion to the book, Lion Songs: Essential Tracks in the Making of Zimbabwe ($15) is also now available, compiled by Mr. Eyre, and includes recordings from 1973 to 2010.
Steve Coleman
Alto saxophonist and composer Steve Coleman finally got a well-deserved MacArthur "genius" grant last fall. He's been one of the most forward thinking and influential musicians for thirty years, incorporating inspirations from science, philosophy, and cosmology, and immersing himself in the music of Haiti, Brazil, and Cuba. Steve Coleman and the Council of Balance's new album, with Cuban and Brazilian percussionists, as well as a string section is called Synovial Joints (Pi Records, $16.98).
If you want to get a sense of early Steve Coleman and his collective M-Base, listen to the new compilation
Introducing M-Base: Brooklyn in the 1980s (Winter & Winter Records, $18.98), which features Cassandra Wilson, Greg Osby, Gary Thomas, and Geri Allen
Nate Chinen wrote a good profile of Mr. Coleman last week in the New York Times, and you can listen to Mr. Coleman talk about his CD and his musical inspirations on NPR's Weekend Edition.
Live Music
Omer Avital Quintet at AMP/Strathmore
Israeli jazz bassist Omer Avital made one of my favorite albums last year, New Song (Motema Music, $15.98). He merges folk forms and jazz, and wrote songs inspired by his Mizrahi (Middle Eastern Jewish) roots—Yemenite on his mother's side, Moroccan on his father's. His quintet—Avishai Cohen, trumpet, Joel Frahm, saxophone, Yonathan Avisahai, piano, and Daniel Freedman, drums—brings these melodic and danceable tunes to vivid life.
The Omer Avital Quintet will play tonight, Thursday, May 7 at AMP by Strathmore, the new club venue across from White Flint Metro in the just-christened "Pike & Rose" neighborhood. Go to https://www.ampbystrathmore.com/ for more information and directions.
Cinderella (La Cenerentola) at Washington National Opera
Cinderella (La Cenerentola) by Rossini, in a new production by Spanish director Joan Font, is being presented by the Washington National Opera. It opens this Saturday, May 9, with performances through May 21.
Mezzo-soprano Isabel Leonard stars, and she has a brand new album, Preludios (Delos Records, $16.99), with Spanish songs by Mompou, de Falla, Granados, Monstsalvatge, Sanjuán, and García Lorca. She is accompanied by Brian Zeger on the piano.
Jason Moran presents Harlem Nights / U Street Lights at the Kennedy Center
On Sunday, May 10, in a two-part concert, pianists Jason Moran and Marc Cary will bring together an array of guests to celebrate the New York and DC musical connection, from swing and bebop to go-go.
The 6 p.m. (free) show, Moran, Cary, Bertha Hope, and Gerald Clayton pay tribute to Duke Ellington and Dr. Billy Taylor. Vocalists Queen Esther and Brianna Thomas will perform with Howard University's vocal jazz ensemble Afro Blue.
The 8 p.m. show features a "Miles Davis Meets Go-Go" jam, with trumpeters Roy Hargrove and Donvonte McCoy; bassist Ben Williams; NEA Jazz Master drummer Jimmy Cobb; drummer Kenny "Kwick" Gross; percussionist Go-Go Mickey Freeman; and saxophonists Lakecia Benjamin, Brian Settles, and Bill Saxton, plus the musicians from the early show.
Listen to Marc Cary's brand-new Rhodes Ahead, Volume 2 (Motema, $14.98) and Jason Moran's album from last year with new cross-over arrangements on All Rise: A Joyful Elegy for Fats Waller (Blue Note, $11.98)
Pages