The Billie Holiday Centennial: Musical Tributes
Tuesday, April 7 would have been the 100th birthday of Billie Holiday. To hear her phrasing and rhythm, as well as her depth of feeling and emotional connection with songs, is still a powerful experience. She has influenced singers of every era, from Abbey Lincoln, Carmen McRae, and Frank Sinatra to the newest generation of singers like Audra McDonald and Cassandra Wilson (see below). Two new albums by singers pay tribute to Lady Day—not by imitating her, but by bringing their own individual sound to the songs associated with her.
Cassandra Wilson, Coming Forth by Day (Sony Legacy, $12.98) – Cassandra Wilson is definitely in the Billie Holiday "lineage"—creating her own deep dark sound for the last thirty years. She explores songs such as "Don't Explain," "All of Me," "Billie's Blues," "Strange Fruit," and "These Foolish Things." Ms Wilson also wrote a song about Ms Holiday's deep musical and emotional bond with saxophonist Lester Young, "Last Song (For Lester)."
José James, Yesterday I Had the Blues: The Music of Billie Holiday (Blue Note, $12.98) – José James takes a slow approach too mostly ballads with a powerful trio backing him: Jason Moran on piano and Fender Rhodes, John Patitucci on bass, and Eric Harland on drums. Stately renditions of "Good Morning Heartache," "Fine and Mellow," "God Bless the Child," and "Lover Man" are here, and the group goes up-tempo on "What a Little Moonlight Can Do."
More Jazz Homages
Joe Lovano & Dave Douglas, Sound Prints: Live At Monterey Jazz Festival (Blue Note, $13.98) – Both tenor saxophonist Joe Lovano and trumpeter Dave Douglas have been influenced by the compositions and the saxophone approach of Wayne Shorter. They created a new group to play Shorter tunes, and to write songs inspired by him. Recorded live at the Monterey Jazz Festival on September 21, 2013, the set includes two new Shorter compositions that he gave to the group, "Destination Unknown" and "To Sail Beyond The Sunset," as well as original pieces by Lovano and Douglas. Besides the two leaders, pianist Lawrence Fields, bassist Linda Oh, and drummer Joey Baron round out the group.
Julia Hülsmann Quartet with Theo Bleckmann, A Clear Midnight: Kurt Weil and America (ECM Records, $18.98) – One of my favorite vocalists, Theo Bleckmann, teams up with German pianist Julia Hülsmann and her group (including trumpet, bass, and drums) to explore some "unsung Kurt Weill," as well as spacious renditions of well-known tunes such as "Mack The Knife," "Speak Low" and "September Song."
The Wrecking Crew at the Avalon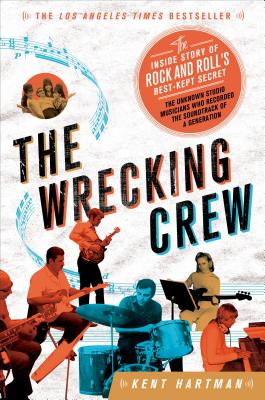 Beginning this Friday, April 10, the Avalon will show the documentary, The Wrecking Crew. The Crew were the pre-eminent L.A. studio musicians who played on hundreds of hit sessions in the 1960s and 1970s for everyone from Frank Sinatra, Phil Spector, the Byrds, and Simon & Garfunkel to grand collaborations with Brian Wilson and the Beach Boys. Guitarists Glen Campbell and Tommy Tedesco, keyboardists Leon Russell and Larry Knechtel, bassist Carol Kaye, and drummers Hal Blaine and Earl Palmer were key members, and Tommy's son, Denny Tedesco, directed the documentary.
A couple of years ago, Kent Hartman wrote The Wrecking Crew: The Inside Story of Rock and Roll's Best-Kept Secret (St. Martin's Press, $16.99).
One of the greatest recordings the Wrecking Crew played on was the Beach Boys' Pet Sounds, which Brian Wilson and the Crew labored over for three months. Mr. Wilson is still writing, singing and producing, and his just-released album, No Pier Pressure (Capitol Records, $12.98) brings in young guest vocalists Kacey Musgraves, Zooey Deschanel and M. Ward (She & Him), as well as Beach Boys Al Jardine and Blondie Chaplin.
Pages