by András Goldinger
A FEW ALL-TIME FAVORITES
Emmylou Harris, LIGHT OF THE STABLE (Reprise) – From 1979, this is an acoustic music classic.
Vince Guaraldi, A CHARLIE BROWN CHRISTMAS (Fantasy) – Jazz pianist Vince Guaraldi's evocative (and now classic) music for the 1965 TV special.
WHERE WILL YOU BE CHRISTMAS DAY? 24 Recordings from 1917-1959 (Dust to Digital) – Compiled by WAMU radio host and music scholar Dick Spottswood, this is a spectacular and revelatory historical collection
The Duke Ellington Orchestra, THREE SUITES, featuring The Nutcracker Suite (Columbia) – Ellington and Billy Strayhorn wrote complex and witty arrangements for the best-known pieces from Tchaikovsky's grand ballet.
Yo-Yo Ma & Friends, SONGS OF JOY & PEACE (Sony Classical) – P & P's all-time best-selling holiday CD
James Brown, THE CHRISTMAS COLLECTION (Polydor) – The funkiest Christmas ever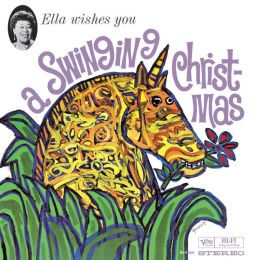 Ella Fitzgerald, ELLA WISHES YOU A SWINGING CHRISTMAS (Verve) – Recorded in 1960, the First Lady of Song swings the classic holiday tunes like no one else. Every generation of jazz singer has studied this classic.
A JOLLY CHRISTMAS FROM FRANK SINATRA (Capitol) – Recorded in 1957, this is a highlight from Frank's Capitol years, with very hip arrangements by Gordon Jenkins.
Louis Armstrong & Friends, CHRISTMAS COLLECTION (Hip-O) – Besides Louis singing "'Zat You, Santa Claus?" "Cool Yule" and "Christmas in New Orleans," you also get Eartha Kitt's "Santa Baby" and gems from Mel Tormé, Louis Jordan, and Peggy Lee.
FAVORITES FROM RECENT YEARS
Nick Lowe, QUALITY STREET (Yep Roc Records) – My favorite holiday album of the last 10 years, it conveys both the fun and the melancholy of the holidays (as well as the tender, sardonic and sentimental sides).
Geri Allen, A CHILD IS BORN (Motema) – The pianis Geri Allen died this year. Her Christmas album (2011) is a beautifully programmed set of meditative instrumentals, spirituals, and jazz standard played on solo piano (and other keyboards). From the beautiful cover etching to its final notes, this CD captures the "wonder and mystery" of the season.
Sharon Jones and the Dap-Kings, IT'S A HOLIDAY SOUL PARTY (Dap Tone Records) – The late Sharon Jones, and her band, the Dap-Kings, brings the high energy of a soul review to the holiday season
Jazz at Lincoln Center Orchestra with Wynton Marsalis, BIG BAND HOLIDAYS (Blue Engine Records) – With three great vocalists: Cécile McLorin Salvant, Gregory Porter, and René Marie
Diana Krall, Christmas Songs (Verve) – Krall sings the seasonal chestnuts, accompanied by big band.
James Taylor, AT CHRISTMAS (Ume Music) – JT teams up with jazz arranger Dave Grusin for one of the coolest, swinging-est albums of holiday tunes.
Leslie Odom Jr., SIMPLY CHRISTMAS (S-Curve Records) – The star of Hamilton (The 2017 edition now has four additional songs)
Carole King, A HOLIDAY CAROLE (Hear Music) – A mother and daughter collaboration: Carole King and Louise Goffin puts their heart into every song

Pentatonix, A PENTATONIX CHRISTMAS (RCA Records) – The third holiday album from the a capella group
Sting, IF ON A WINTER'S NIGHT… (Deutsche Grammophon) – A quiet and thoughtful songs on winter and the yuletide season in the British Isles.
Blind Boys of Alabama & Taj Mahal, TALKIN' CHRISTMAS (Sony Masterworks) – With some righteous originals, stressing the religious spirit of Christmas.
Herb Alpert and the Tijuana Brass, CHRISTMAS ALBUM (Herb Alpert Records) – From 1968, it showcases a mellower Tijuana Brass, augmented by a choir and a string section (both arranged by trumpeter Shorty Rogers).
She & Him, CHRISTMAS PARTY (Columbia Records) – Fom the duo of M. Ward and screen star Zooey Deschanel.
Elizabeth Mitchell, THE SOUNDING JOY: Christmas Songs In and Out of the Ruth Crawford Seeger Songbook (Smithsonian Folkways) – Songs from composer and folklorist Ruth Crawford Seeger's 1953 songbook, American Folk Songs for Christmas.
Caitríona O'Leary, THE WEXFORD CAROLS (Heresy Records) – Ms. O'Leary delved into the collections from County Wexford, Ireland (1684 & 1728).
Linn Barnes and Allison Hampton, A CELTIC CHRISTMAS (Oak Leaf Records) – Guitarist and lute player Barnes and Celtic harpist Hampton, who continue their yearly Celtic Christmas shows at Dumbarton Church.
LATIN CHRISTMAS AND FRENCH CHRISTMAS (Putumayo) – The latest Putumayo holiday titles
A JAZZY CHRISTMAS
THE CHARLIE BYRD CHRISTMAS ALBUM (Concord) – Solo guitar classics from the DC icon
A DAVE BRUBECK CHRISTMAS (Concord) – A solo piano recital from Mr. Brubeck
JOYFUL JAZZ! CHRISTMAS WITH VERVE!: THE VOCALISTS (Verve) – Ella Fitzgerald, Louis Armstrong, Dinah Washington, Peggy Lee, Shirley Horn, Mel Tormé, Norah Jones, among other greats
JOYFUL JAZZ! CHRISTMAS WITH VERVE!: THE INSTRUMENTALS (Verve) – Oscar Peterson, Jimmy Smith, Lionel Hampton, John Coltrane, Bill Evans, Ramsey Lewis, Roy Hargrove, plus many others
MORE CLASSICAL FAVORITES
Renée Fleming, SACRED SONGS (Decca)
Anonymous 4, THE CHERRY TREE (Harmonia Mundi) –The four women of A4 bring sing carols and songs, both from medieval England and colonial American inspired by the miracle ballad, "The Cherry Tree Carol."
CHRISTMAS WITH THE TALLIS SCHOLARS (Gimell) – One of the premier groups in Renaissance music