Jazz Pianos and Keyboards
Marc Cary, Rhodes Ahead, Volume 2 (Motema, $14.98) – The Fender Rhodes electric piano has a very recognizable sound; it entered the jazz landscape in the mid-1960s. Many jazz (and pop) masters made great music on it: Herbie Hancock, Joe Zawinul, Chick Corea, Stevie Wonder, George Duke, Les McCann, and Ramsey Lewis. Marc Cary's Rhodes Ahead, Volume 1 came out in 2000, and he returns to the instrument (as well as other vintage synthesizers) on Rhodes Ahead, Volume 2 with a percolating mix including trumpet, bass, drums, tabla, percussion, and violin.
Abdullah Ibrahim, The Song is My Story (Sunnyside, CD & DVD, $18.98) – Abdullaah Ibrahim went to Sacile, Italy, the home of Fazioli pianos. He recorded a live solo recital at the Fazioli Concert Hall, interweaving improvised tunes with songs going back to the 1960s and 1970s (when he was known as Dollar Brand). The package also comes with a DVD of the concert.
Aaron Goldberg, The Now (Sunnyside, $16.98) – Aaron Goldberg's hard-charging trio includes Reuben Rogers on bass and Eric Harland (who were also part of Charles Lloyd's recent quartet). Goldberg mixes Brazilian songs by Chico Buarque and Toninho Horta, with Charlie Parker's "Perhaps" along with his originals.
ECM CD Raffle: Jakob Bro
Electric guitarist Jakob Bro has released one of quietest and most contemplative albums of the year. Gefion (ECM Records, $18.98) is a trio record—with Thomas Morgan on bass, and Jon Christensen on drums—that slowly unveils placid soundscapes in layers of guitar, with subtle bass and drum. Bro has played with Paul Motian, Lee Konitz, and Bill Frisell (definitely an influence), and offers an album for meditation and contemplation.
If you'd like to win a copy of Gefion, please email agoldinger@politics-prose.com , with BRO in the subject field.
Philip Glass at P&P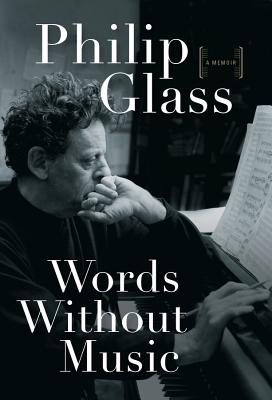 Composer Philip Glass will speaking at P&P about his memoir, Words Without Music (Liveright Books, $29.95), on Sunday, May 17. The book is a terrific read: it starts with Mr. Glass's early life in Baltimore, and continues at a whirlwind pace to Chicago, New York, Paris, then later travelling the world collaborating on theater, dance, and movie projects, as well as performing with his Ensemble. You witness the years of hard work he put in to achieve his composing voice, and his never-ending curiosity for new sights, sounds and visions.
Among Mr. Glass's dozens of recordings, one of the newest is Glass: The Complete Piano Etudes (Orange Mountain Music, 2 CDs, $22.98), played by Maki Namekawa.
Mr. Glass was interviewed by Terry Gross on Fresh Air.
Also, the cover story of the April issue of Gramophone celebrates "Fifty Years of Minimalism" exploring the influence of Glass, Steve Reich, Terry Riley and La Monte Young.
Pages