Democracy Betrayed: The Rise of the Surveillance Security State (Hardcover)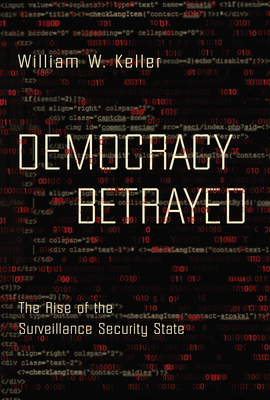 Description
---
In the aftermath of 9/11, in collusion with booming technological advancements, a new and more authoritarian form of governance is supplanting liberal democracy. The creation of the Security Industrial Complex -- an -internal security state-within-the-state- fueled by tech companies, private security firms, and the Intelligence Community to the tune of $120 billion a year -- is intruding on civil liberties to an extent never before seen in our history. Politicians tolerate it; the average citizen at times welcomes it, thinking it is the way to keep the America safe in a time of uncertainty and terrorism. But how real is the terrorist threat, and is it worth the loss of our individual privacy?
As a society, the author maintains, we have yet to comprehend the meaning of universal digital connection, its impact on our psychology, and its transformation of our government and society. America is at a crossroads in contending with our overreaction to terrorism, allowing the beginnings of a police state, and the erosion of our country from a -liberal democracy- to a -secure democracy- - one where government overreaches, tramples on civil liberties, and uses great advancements in technology to spy on the populace.

About the Author
---
William W. Keller is a graduate of Princeton University with a Ph.D. in Government from Cornell University. He worked as a security analyst for the U.S. Congress for ten years, as executive director of the Center for International Studies at MIT, and as director of the Ridgway Center for International Security Studies at the University of Pittsburgh. He current serves as director of the Center for International Trade and Security at the University of Georgia. He has held the highest security clearances and has written extensively about the FBI, defense technology, multinational corporations, the intelligence community, and the arms trade. He is the author of six books including Myth of the Global Corporation and Arm in Arm: The Political Economy of the Global Arms Trade.