Power, Politics, and Universal Health Care: The Inside Story of a Century-Long Battle (Hardcover)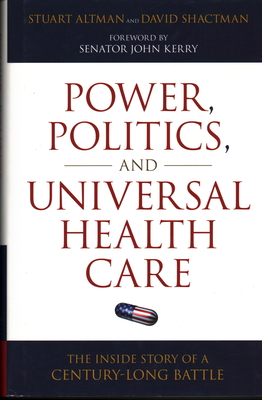 $26.00
Special Order—Subject to Availability
Description
---
Essential reading for every American who must navigate the US health care system.
Why was the Obama health plan so controversial and difficult to understand? In this readable, entertaining, and substantive book, Stuart Altman--internationally recognized expert in health policy and adviser to five US presidents--and fellow health care specialist David Shactman explain not only the Obama health plan but also many of the intriguing stories in the hundred-year saga leading up to the landmark 2010 legislation. Blending political intrigue, policy substance, and good old-fashioned storytelling, this is the first book to place the Obama health plan within a historical perspective.
The authors describe the sometimes haphazard, piece-by-piece construction of the nation's health care system, from the early efforts of Franklin Roosevelt and Harry Truman to the later additions of Ronald Reagan and George W. Bush. In each case, they examine the factors that led to success or failure, often by illuminating little-known political maneuvers that brought about immense shifts in policy or thwarted herculean efforts at reform.
The authors look at key moments in health care history: the Hill-Burton Act in 1946, in which one determined poverty lawyer secured the rights of the uninsured poor to get hospital care; the "three-layer cake" strategy of powerful House Ways and Means Committee Chairman Wilbur Mills to enact Medicare and Medicaid under Lyndon Johnson in 1965; the odd story of how Medicare catastrophic insurance was passed by Ronald Reagan in 1988 and then repealed because of public anger in 1989; and the fact that the largest and most expensive expansion of Medicare was enacted by George W. Bush in 2003.
President Barack Obama is the protagonist in the climactic chapter, learning from the successes and failures chronicled throughout the narrative. The authors relate how, in the midst of a worldwide financial meltdown, Obama overcame seemingly impossible obstacles to accomplish what other presidents had tried and failed to achieve for nearly one hundred years.
About the Author
---
Stuart Altman, the Sol C. Chaikin Professor of National Health Policy at the Heller School for Social Policy and Management, Brandeis University, is an internationally recognized expert in health policy. He served as a deputy assistant secretary of Health, Education, and Welfare in the Nixon administration and was one of the architects of Nixon's plan for universal health care. He was chair of the Prospective Payment Assessment Commission (ProPAC) for twelve years under presidents Ronald Reagan, George H. W. Bush, and Bill Clinton. ProPAC was responsible for overseeing the way Medicare paid hospitals and other health institutions. He also served on President Clinton's transition team and was appointed to the president's Bipartisan Commission on the Future of Medicare. Recently, he was a member of the health policy team for Barack Obama during his presidential campaign. David Shactman is a freelance writer who was a senior fellow at the Schneider Institute for Health Policy at the Heller School for Social Policy and Management, Brandeis University, and worked with Stuart Altman for eleven years. During that time, he was coeditor of two books: Policies for an Aging Society (with Stuart Altman) and Regulating Managed Care (with Stuart Altman and Uwe E. Reinhardt). He has also written numerous articles published in peer-reviewed journals and trade magazines, including Health Affairs and the New England Journal of Medicine.
Praise For…
---
"Power, Politics, and Universal Health Care is a first-rate analysis, skillfully tracing the political, social, and economic forces that, for nearly a century, thwarted efforts to enact universal health insurance legislation. At times, it reads more like a novel than a policy book as it tells the fascinating story of how the forces that frustrated past efforts to provide universal insurance coverage were overcome to pass the Affordable Care Act."
-Robert D. Reischauer, president of the Urban Institute and former director of the Congressional Budget Office, 1989–1995

"A riveting journey through the history of US health care reform. This book is a must-read for anyone who wants to understand America's elusive search for universal coverage and affordable care. Altman and Shactman do the impossible—make sense of our complex health system in an accessible and compelling way."
-Jonathan Oberlander, PhD, professor at the University of North Carolina at Chapel Hill and author of The Political Life of Medicare

"Stuart Altman and David Shactman's new book does a superb job of capturing the essence of the meandering odyssey of health care policy.... They describe the pivotal events and characters of the development of universal health care with the intimacy of good storytelling. The authors make you feel like you are there."
-Charles N. Kahn III, president and CEO of the Federation of American Hospitals and former staff director of the House Ways and Means Health Subcommittee, 1995–1998

"There is not an American who has been more active and relevant in the health reform debate for the last forty years than Stuart Altman. With his talented partner, David Shactman, he has produced a well-written, insightful personal recollection of the evolution of health reform. It is an invaluable contribution to understanding how all major reforms are built on the triumphs and failures of past attempts and cannot be achieved without the application of lessons learned, leadership, good timing, and luck."
-Chris Jennings, former senior health reform adviser to President Bill Clinton, 1994–2001

"Rendered more in the riveting prose of a spy novel than in the turgid text that usually emits from academia, the authors present an insider's narrative of the major defeats and small victories in the century-old quest to provide all Americans, rich and poor, financial and physical access to timely health care without bankrupting their families."
-Uwe E. Reinhardt, PHD, James Madison Professor of Political Economy at the Woodrow Wilson School at Princeton University