Blue Collar Intellectuals: When the Enlightened and the Everyman Elevated America (Hardcover)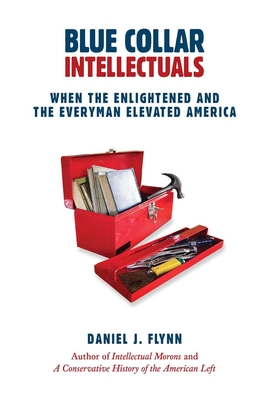 $27.95
Special Order—Subject to Availability
Description
---
Stupid is the new smart--but it wasn't always so
Popular culture has divorced itself from the life of the mind. Who has time for great books or deep thought when there is Jersey Shore to watch, a txt 2 respond 2, and World of Warcraft to play?
At the same time, those who pursue the life of the mind have insulated themselves from popular culture. Speaking in insider jargon and writing unread books, intellectuals have locked themselves away in a ghetto of their own creation. It wasn't always so.
Blue Collar Intellectuals
vividly captures a time in the twentieth century when the everyman aspired to high culture and when intellectuals descended from the ivory tower to speak to the everyman. Author Daniel J. Flynn profiles thinkers from working-class backgrounds who played a prominent role in American life by addressing their intellectual work to a mass audience. Blue Collar Intellectuals tells the fascinating story of: he unschooled hobo who migrated from skid row anonymity to White House chats with the president and prime-time TV specials.
Blue Collar Intellectuals tells the fascinating story of:
-The scandalous teacher-student romance that spawned a half-century labor of love in writing the history of the world.
-The Ivy League Ph.D. who held neither a high school nor college degree, and fittingly launched a renaissance in reading the great books outside of formal schools.
-The scholarship student who experienced the free market firsthand waiting tables and peddling socks, and who became one of capitalism's most influential exponents.
-The impoverished outcast who became the poet of the pulps, elevating millions of readers along with heretofore marginal genres.
Guiding us through a world now vanished, Flynn causes us to look anew at our own digital age and its nostrums: Video gaming is just a new form of literacy, Reality shows . . . Challenge our emotional intelligence, and Who cares if Johnny can't read? The value of books is overstated. Blue Collar Intellectuals shows us how much everyone intellectual and everyman alike has suffered from mass culture's crowding out of higher things and the elite's failure to engage the masses.
Praise for Blue Collar Intellectuals
-
This book is not only an exciting story; it also corrects a terrible cultural mistake
--the mistake of treating high culture, Great Books, and other canon-making visions of tradition as exploitative and spurious. Previous generations of intellectuals believed that our great cultural inheritance belonged to everyone, rich and poor, black and white and brown.
Daniel Flynn's profiles revive that belief, and they mark a vital alternative to the complacent relativism of contemporary cultural stewards.-
--
Mark Bauerlein
, best-selling author of
The Dumbest Generation
-
Flynn's case histories of a wonderful--and uniquely American--tradition
of bringing learning to the masses offers us a morality tale in these times of spiraling tuition, esoteric publication, and an insular academia mostly cut off from wider society. The
fascinating portraits
here remind us how not so long ago an interest in making knowledge known beyond the campus was not antithetical to learning but the very essence of the true intellectual.- --
Victor Davis Hanson
, coauthor of
Who Killed Homer?
and
The Bonfire of the Humanities
-Back in the middle decades of the twentieth century, millions of Americans supped at the table of high culture, learning history, philosophy, and economics from intellectual entrepreneurs like Will and Ariel Durant, Mortimer Adler, and Eric Hoffer.
Daniel Flynn tells their story inBlue Collar.
About the Author
---
Daniel J. Flynn is the author of A Conservative History of the American Left and Intellectual Morons: How Ideology Makes Smart People Fall for Stupid Ideas. A popular radio guest and frequent speaker on college campuses, he writes a weekly column for HumanEvents.com and blogs at www.flynnfiles.com. He lives in Massachusetts with his wife and two children.