Cutting Corporate Welfare (Paperback)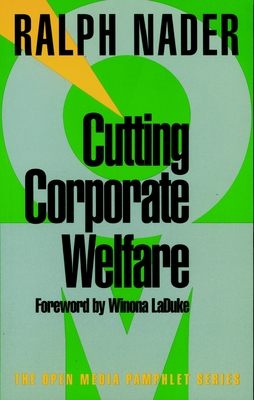 $10.00
Special Order—Subject to Availability
Description
---
In this groundbreaking pamphlet, based on testimony he delivered before Congress, Ralph Nader describes how corporations are picking our pockets, and what we can do to stop them.
While the United States continues to experience unprecedented cuts in social service programs and millions of Americans go without health insurance, massive corporations continue to reap huge sums of taxpayer money through "corporate welfare"--corporate subsidies, bailouts, giveaways, and tax escapes. Cutting Corporate Welfare details numerous appalling examples of corporate welfare, including: the giveaway of the public airwaves, which by definition belong to the people, to private radio and television stations (including the latest $70 billion gift of the digital spectrum); taxpayer subsidies for giant defense corporation mergers and commercial weapons exports to governments overseas; and the practice of making patients pay twice for drugs--first, as taxpayers subsidize the drugs' development, and again, as patients, after the federal government gives monopolistic control over the chemical's manufacture to a price-gouging drug company.
Cutting Corporate Welfare sounds a wake-up call for those concerned about how we are being pick-pocketed by big business, and what we can do to stop it.
About the Author
---
Born in Connecticut in 1934, RALPH NADER has spent his lifetime challenging corporations and government agencies to be more accountable to the public. His 1965 book "Unsafe at Any Speed" permanently altered the course of a reckless U.S. automobile industry and made Nader a household name. His lobbying and writing on the food industry helped to ensure that the food we buy is required to pass strict guidelines before reaching the consumer. One of Nader's greatest achievements was his successful lobbying for a 1974 amendment to the Freedom of Information Act, which gave increased public access to government documents. Over the years he has co-founded the public interest groups Public Citizen, Critical Mass, Commercial Alert, and the Center for the Study of Responsive Law. His 2000 presidential campaign on the Green Party ticket served to broaden the scope of debate on the nation's priorities. Named by the" Atlantic" as one of the hundred most influential figures in American history, Nader continues to be a relentless advocate for grassroots activism and democratic change. He lives in Washington, D.C.