Blackwater: The Rise of the World's Most Powerful Mercenary Army (Paperback)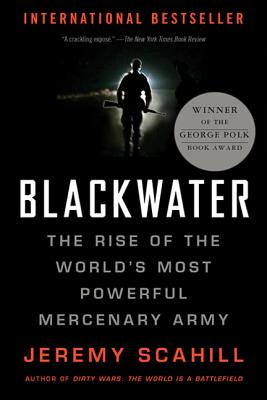 $19.99
Not On Our Shelves—Ships in 1-5 Days
Description
---
On September 16, 2007, machine gun fire erupted in Baghdad's Nisour Square, leaving seventeen Iraqi civilians dead, among them women and children. The shooting spree, labeled "Baghdad's Bloody Sunday," was neither the work of Iraqi insurgents nor U.S. soldiers. The shooters were private forces working for the secretive mercenary company, Blackwater Worldwide.
This is the explosive story of a company that rose a decade ago from Moyock, North Carolina, to become one of the most powerful players in the "War on Terror." In his gripping bestseller, award-winning journalist Jeremy Scahill takes us from the bloodied streets of Iraq to hurricane-ravaged New Orleans to the chambers of power in Washington, to expose Blackwater as the frightening new face of the U.S. war machine.

About the Author
---
Jeremy Scahill is a frequent contributor to The Nation magazine and a correspondent for the national radio and TV program Democracy Now! He is currently a Puffin Foundation Writing Fellow at The Nation Institute. Scahill has won numerous awards for his reporting, including the prestigious George Polk Award, which he won twice. While a correspondent for Democracy Now!, Scahill reported extensively from Iraq through both the Clinton and Bush administrations. Traveling around the hurricane zone in the wake of Katrina, Scahill exposed the presence of Blackwater forces in New Orleans and his reporting sparked a Congressional inquiry and an internal Department of Homeland Security investigation. He has appeared on ABC World News, CBS Evening News, NBC Nightly News, CNN, MSNBC, PBS's The NewsHour, Bill Moyers Journal and is a frequent guest on other radio and TV programs nationwide. Scahill also serves as an election correspondent for HBO's Real Time with Bill Maher. He lives in Brooklyn, New York.