Crimes of the Century: From Leopold and Loeb to O. J. Simpson (Paperback)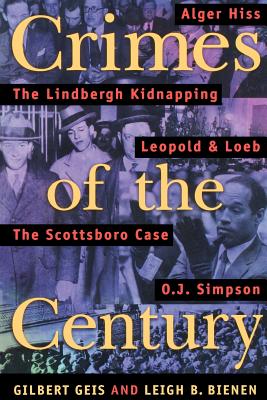 $27.95
Not On Our Shelves—Ships in 1-5 Days
Description
---
In compelling narrative, the authors probe the sensational cases of Nathan F. Leopold, Jr., and Richard A. Loeb, the Scottsboro -boys, - Bruno Richard Hauptmann, Alger Hiss, and O.J. Simpson, highlighting significant lessons about criminal behavior and the administration of criminal justice.
Each case study details the crime, the police investigation, and the court proceedings, profiles the major players, and examines the outcome and aftermath of the trial. The authors untangle the perplexities surrounding the cases and illuminate the many mysteries that remain unsolved today. These celebrated trials reveal issues of overzealous prosecution, sloppy police work, judicial bias, race, class, and ethnic struggles, and the role of wealth in securing a competent defense. They also show how the temper of the times and frenzied media coverage heightened the intensity of drama in the cases.
About the Author
---
Gilbert Geis is Professor Emeritus in the Department of Criminology, Law and Society, at the University of California, Irvine. He is a former President of the American Society of Criminology and recipient of its Edwin H. Sutherland Award for outstanding research. He is the co-author of A Trial of Witches: A Seventeenth-Century Witchcraft Prosecution. Leigh B. Bienen is a Senior Lecturer at the Northwestern University School of Law. A former public defender, she has published numerous articles on homicide, the death penalty, juries, and sex offenses. She is the co-author of Jurors and Rape.