The Plot Against America (Paperback)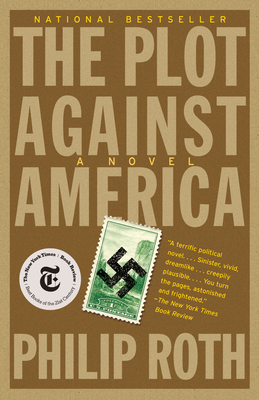 Description
---
In an astonishing feat of empathy and narrative invention, our most ambitious novelist imagines an alternate version of American history.
In 1940 Charles A. Lindbergh, heroic aviator and rabid isolationist, is elected President. Shortly thereafter, he negotiates a cordial -understanding- with Adolf Hitler, while the new government embarks on a program of folksy anti-Semitism.
For one boy growing up in Newark, Lindbergh's election is the first in a series of ruptures that threaten to destroy his small, safe corner of America-and with it, his mother, his father, and his older brother.
About the Author
---
In 1997 Philip Roth won the Pulitzer Prize for American Pastoral. In 1998 he received the National Medal of Arts at the White House and in 2002 the highest award of the American Academy of Arts and Letters, the Gold Medal in Fiction. He has twice won the National Book Award and the National Book Critics Circle Award. He has won the PEN/Faulkner Award three times. In 2005 The Plot Against America received the Society of American Historians' Prize for "the outstanding historical novel on an American theme for 2003-2004." Recently Roth received PEN's two most prestigious awards: in 2006 the PEN/Nabokov Award and in 2007 the PEN/Bellow Award for achievement in American fiction. Roth is the only living American novelist to have his work published in a comprehensive, definitive edition by the Library of America. In 2011 he received the National Humanities Medal at the White House, and was later named the fourth recipient of the Man Booker International Prize.
Praise For…
---
"A terrific political novel. . . . Sinister, vivid, dreamlike . . . creepily plausible. . . . You turn the pages, astonished and frightened." — The New York Times Book Review

"Huge, inflammatory, painfully moving. . . . Far and away the most outward-looking, expansive . . . book Roth has written." –The Washington Post Book World

"Roth's most powerfrul book to date. Confounding and illuminating, enraging and discomfiting, imaginative and utterly–terrifyingly–believable." -- San Francisco Chronicle

"Once again, Philip Roth has published a novel that you must read–now . . . . A stunning work." –The Christian Science Monitor

"It's not a prophecy; it's a nightmare, and it becomes more nightmarish–and also funnier and more bizarre–as is goes along. . . . [A] sinuous and brilliant book, with its extreme sweetness, its black pain, and its low, ceaseless cackle." –The New Yorker

"Ambitious and chilling. . . a breath-taking leap of imagination. . . . The writing is brilliant." –USA Today

"Intimately observed characters in situations fraught with society's deepest, most bitter tensions. . . . Too ingeniously excruciating to put down." –Newsweek

"Never has [Roth's voice] been more nuanced . . . beautifully particularized. . . . [A] novelist who for 45 years has been continuously reinventing himself, never more notably than in The Plot Against America." –The Boston Globe

"Ingenious . . . Roth's gorgeous and forceful prose, which swirls and dances and rages . . . has never seemed more precise and lucid." –Star-Telegram (Dallas/Fort Worth)

"Raises the stakes as high as a patriotic novel can take them. . . . Effortlessly, it seems, Roth has led us to suspend disbelief; then he makes us believe; then he suspends this belief and finally removes it. . . . A fabulous yarn." –Los Angeles Times Book Review

"A remarkable act of historical imagination and one of [Roth's] most moving novels." –People

"Roth takes readers on a harrowing safari across interdimensional borders into a bizarre version of his hometown. . . . [His] delivery is so matter-of-fact, so documentary deadpan that when we're 10 pages into the book our own world starts to seem like a flimsy fantasy." –Time

"The most compelling of living writers. . . . [His] every book is like a dispatch from the deepest recesses of the national mind." –New York Magazine

"A richly terrifying historical novel. . . . [Roth is] the greatest fiction writer America has ever produced." –Esquire

"The writing is extraordinary, complex but highly readable, evocative, and colored with a tenderness and affection. . . . This is one of Roth's finest books." –O (The Oprah Magazine)

"Provocative. . . . At times, deeply affecting. . . . An intimate glimpse of one family's harrowing encounter with history." –The New York Times

"A harrowing novel of political psychology. . . . It may be the saddest book Roth has written and the most frightening." –The Village Voice

"An epic built–painstakingly, passionately, nearly perfectly–of the small structures of the particular. . . . Roth is at the peak of his powers, and he may have more for us yet."
–The Times [London]

"The newest triumph in what is surely the most prolific late blossoming in literary history. Roth is writing the best books of his life, chronicling the American century…Today's artists need to tell us about our world, but maybe they need to do it in camouflage. Philip Roth, an old master, has shown the way." –The Guardian

"One of the world's most brilliant writers… His words fly off the page, his sentences gathering a momentum that hauls the reader along to a place beyond mere critical appraisal." –The Observer

"In The Plot against America, Philip Roth has reasserted the supremacy of the novel over all other literary forms. This is the first fictional masterpiece of the 21st century, and it rings entirely true." –Evening Standard