Stalin: The Court of the Red Tsar (Paperback)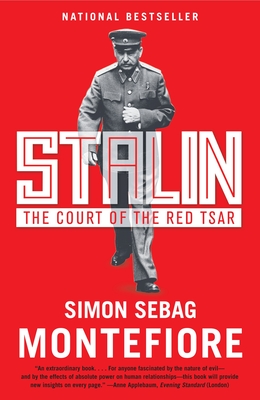 Description
---
This widely acclaimed biography of Stalin and his entourage during the terrifying decades of his supreme power transforms our understanding of Stalin as Soviet dictator, Marxist leader, and Russian tsar.
Based on groundbreaking research, Simon Sebag Montefiore reveals the fear and betrayal, privilege and debauchery, family life and murderous cruelty of this secret world. Written with bracing narrative verve, this feat of scholarly research has become a classic of modern history writing. Showing how Stalin's triumphs and crimes were the product of his fanatical Marxism and his gifted but flawed character, this is an intimate portrait of a man as complicated and human as he was brutal and chilling.

About the Author
---
SIMON SEBAG MONTEFIOREis a historian of Russia and the Middle East. Catherine the Great and Potemkin was short-listed for the Samuel Johnson Prize.Stalin: The Court of the Red Tsarwon the History Book of the Year Prize at the British Book Awards.Young Stalinwon the Los Angeles Times Book Prize for Biography, the Costa Biography Award, and le Grande Prix de la biographie politique.Jerusalem: The Biographywas a worldwide best seller. Montefiore s books are published in more than forty languages. He is the author of the novelsSashenkaandOne Night in Winter, which won the Paddy Power Political Fiction Book of the Year Award in 2014. A Fellow of the Royal Society of Literature, Dr. Montefiore graduated from Cambridge University, where he received his PhD. He lives in London. www.simonsebagmontefiore.com"
Praise For…
---
"Terrific. . . . Scholarship as a kind of savage gossip. . . . Deeply researched, wonderfully readable." –Time "The first intimate portrait of a man who had more lives on his conscience than Hitler. . . . Disturbing and perplexing." –Richard Pipes, The New York Times Book Review"Superb. . . . No Western writer has got as close. . . . A dark and excellent book." –The New York Review of Books"A harrowing portrait of life in the dictator's inner circle. . . . [Stalin] emerges from this book as a contradictory, creepily flesh-and-blood human being." –The New York Times"Unprecedented in its intimacy and horrifying in its implications, not merely because it shows that the engineers of one of history's greatest holocausts were depraved . . . but also because they emerge in these pages as surprisingly normal." –The Washington Post Book World