Revolutionary Mothers: Women in the Struggle for America's Independence (Paperback)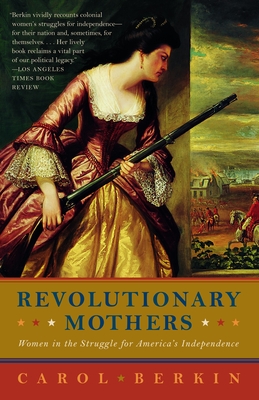 $16.00
Not On Our Shelves—Ships in 1-5 Days
Description
---
The American Revolution was a home-front war that brought scarcity, bloodshed, and danger into the life of every American. In this groundbreaking history, Carol Berkin shows us how women played a vital role throughout the conflict.
The women of the Revolution were most active at home, organizing boycotts of British goods, raising funds for the fledgling nation, and managing the family business while struggling to maintain a modicum of normalcy as husbands, brothers and fathers died. Yet Berkin also reveals that it was not just the men who fought on the front lines, as in the story of Margaret Corbin, who was crippled for life when she took her husband's place beside a cannon at Fort Monmouth. This incisive and comprehensive history illuminates a fascinating and unknown side of the struggle for American independence.
About the Author
---
Carol Berkin, professor of American history at Baruch College and the Graduate Center of the City University of New York, is the author of "A Brilliant Solution: Inventing the American Constitution, First Generations, "and" Jonathan Sewall." She lives in New York City.
Praise For…
---
"Berkin vividly recounts Colonial women's struggles for independence — for their nation and, sometimes, for themselves. . . . [Her] lively book reclaims a vital part of our political legacy." —Los Angles Times Book Review

"Compact and informative. . . one is simply bowled over by the courage and fortitude of these women." —The Washington Times

"Berkin is a great storyteller . . . her dedication to telling the stories of these women is evident." —The Christian Science Monitor

"[Berkin] illuminates the many way women on both sides of the conflict performed as couriers, spies, saboteurs, camp followers [and] noble and enduring wives." —The Washington Post Book World

"Carol Berkin has merged the craft of the skilled historian and the sensitivity of a master storyteller with her sensibilities as a pioneering scholar of women to produce the best narrative of how women of diverse backgrounds experienced the American Revolution." —Edith Gelles, author of Portia: The World of Abigail Adams


"Revolutionary Mothers is an accessible, lively blend of great story-telling and recent scholarship, the most comprehensive study yet published of women in the American Revolution. Readers of all descriptions will enjoy and learn from it." —Mary Beth Norton, author of In the Devil's Snare: The Salem Witchcraft Crisis of 1692

"Revolutionary Mothers is vintage Carol Berkin, incisive, thoughtful and spiced with vivid anecdotes that add another dimension to the narrative. Don't miss it." —Thomas Fleming, author of  Liberty! The American Revolution

"Revolutionary Mothers is a treat to read. Not only is Carol Berkin a skillful writer, but she has placed women squarely at the center of the independence movement. By showing the different roles women played, she moves the battlefield to wherever women were forced to make choices and employ their talents. Elite, poor, Euro, Native, and African American women collide in Berkin's book, as do the rebels and loyalists who were once friends and neighbors. A valuable and readable book." —Elaine Crane, author of Ebb Tide in New England: Women, Seaports, and Social Change, 1630-1800