Of Paradise and Power: America and Europe in the New World Order (Paperback)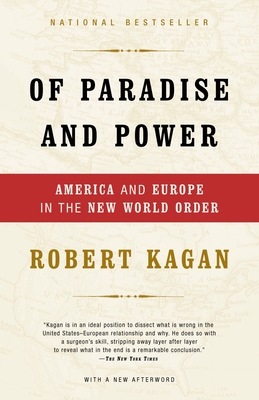 List Price: $14.95
Our Price: $13.00
(Save: $1.95 13%)
Special Order—Subject to Availability
Description
---
From Robert Kagan, a leading scholar of American foreign policy, comes an insightful analysis of the state of European and American foreign relations.At a time when relations between the United States and Europe are at their lowest ebb since World War II, this brief but cogent book is essential reading. Kagan forces both sides to see themselves through the eyes of the other. Europe, he argues, has moved beyond power into a self-contained world of laws, rules, and negotiation, while America operates in a Hobbesian world where rules and laws are unreliable and military force is often necessary.
Tracing how this state of affairs came into being over the past fifty years and fearlessly exploring its ramifications for the future, Kagan reveals the shape of the new transatlantic relationship. The result is a book that promises to be as enduringly influential as Samuel Huntington's The Clash of Civilizations and the Remaking of World Order.
About the Author
---
Robert Kagan is senior associate at the Carnegie Endowment for International Peace, where he is director of the U.S. Leadership Project. In addition to a monthly column in the"Washington Post, "he is the author of A Twilight Struggle: American Power and Nicaragua," "1977-1990" "and coeditor, with William Kristol, of Present Dangers: Crisis and Opportunity in American Foreign and Defense Policy." "Kagan served in the State Department from 1984 to 1988.
Praise For…
---
"Kagan is an ideal position to dissect what is wrong in the United States-European relationship and why. He does so with a surgeon's skill, stripping away layer after layer to reveal what in the end is a remarkable conclusion." —The New York Times

"A compact and arresting book. . . . Highly readable. It is also a hard-hitting, unsentimental and yet liberal and humane manifesto." —The Sunday Times (London)

"Lucid and elegant. . . . It is hard to imagine any future serious discussion of trans-Atlantic relations or America's role in the world without reference to [Of Paradise and Power]." —The New York Times Book Review

"Kagan is one of America's finest commentators on issues of foreign policy. He writes elegantly, has an excellent command of history and consistently demonstrates superior intelligence and insight. . . . This book could not have been more timely." —Los Angeles Times Book Review

"I consider this one of those seminal treatises without which any discussion of European-American relations would be incomplete and which will shape that discussion for years to come." —Dr. Henry Kissinger

"A book worthy of every thinking person on both sides of the Atlantic. It is hard to imagine so complex a subject being explained so clearly and so compellingly . . . A contribution unlikely to be equaled." —Times Higher Education Supplement (London)"For its brilliant juxtaposition of strategy and philosophy, of the realities of power and the ethics of power, of the American ideal of justice and the European ideal of peace, Robert Kagan's small book is a big book. Nothing like this has been written since the death of Raymond Aron." —Leon Weiseltier

"Subtle and brilliant."—The New Republic

"Cogent and important best describe this slim book, its lack of vast pages belying the weightiness of its message. . . . Controversial arguments, certainly, but this book deserves to be read by all conscientious citizens." —Booklist (starred review)

"[Has] the foreign policy establishment humming from Washington to Tokyo. . . . It is being called the new 'X' article."—Washington Post

"A cogent new book. . . . Kagan is admirably even–handed.... [His] analysis is valuable and instructive." —Detroit Free Press

"Kagan's provocative and thoughtful essay is required reading for everyone concerned about the future of transatlantic relations. . . . Although not everyone will agree with Kagan's analysis, readers will benefit from its clarity, insight and historical force." —Senator John McCain

"A subtle and empathetic analysis. . . . Insightful." —The Seattle Times

"'Americans are from Mars and Europeans are from Venus', writes Robert Kagan in the first paragraph of his new book. . . . That's probably the best one–liner any foreign policy intellectual has offered to explain perennial transatlantic disputes over the exercise of power in international relations. . . . Well–argued. . . .Truly insightful." —New York Observer

"[Kagan writes with] skill, erudition, and reasoned argument." —National Review

"Anyone looking for an intellectual primer to explain the geopolitical forces at work in the Iraqi conflict should order a copy of Robert Kagan's Of Paradise And Power." —Sunday Telegraph (London)

"This refreshing essay results from careful thought combined with critical information. Read it and you will think more deeply about this important arena."—George P. Shultz, Distinguished Fellow at the Hoover Institution, Stanford University

"Brilliant." —Francis Fukuyama

"The democratic West has divided into two: realist America, putting its trust in physical power, and idealist Europe, trusting to intellectual authority and multilateralism. It is true that, as Mr. Kagan makes clear, American foreign policy retains a strong idealist element, but it is its muscular willingness to act with force, alone if it must, that Mr. Kagan defends here, and convincingly." —The Wall Street Journal

"Kagan describes [the current climate] with dispassionate and deadly accuracy."—The Washington Times

"Slender but brilliant." —Business Week