Semper Fi in the Sky: The Marine Air Battles of World War II (Paperback)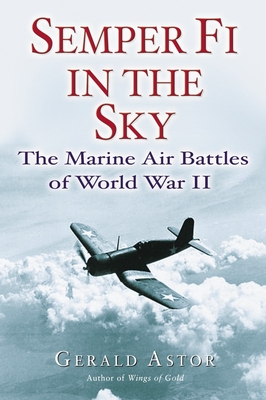 $18.00
Special Order—Subject to Availability
Description
---
Here, one of America's most popular military historians re-creates, using their own moving and powerful voices, the true stories of the U.S. Marine pilots who flew the Allies to victory in World War II. These riveting accounts recreate conflicts ranging from the Marines gallant defense of Wake Island, where Captain Henry Baron Elrod destroyed two enemy planes before joining the fight on the ground, earning a posthumous Medal of Honor in the last-ditch attempt to stave off the Japanese, to the Battle of Midway and Guadalcanal.
Running the gamut from Second Lieutenant Alvin Jensen's single-handed destruction of twenty-four grounded Japanese aircraft on Kahili to Lieutenant John W. Leaper's sawing off a Kamikaze's tail with his propeller over Okinawa, these thrilling oral histories of the Pacific war's air battles bring them to life in all their terror and triumph.
About the Author
---
Gerald Astor is a World War II veteran and award-winning journalist and historian whose articles have appeared in the New York Times, Playboy, and Esquire. He is also the author of A Blood-Dimmed Tide: The Battle of the Bulge by the Men Who Fought It and Operation Iceberg: The Invasion and Conquest of Okinawa in World War II. He makes his home in Scarsdale, New York.
Praise For…
---
"Captures the drama of aerial combat in the Pacific as never before."
–Carlo D'Este, author of Eisenhower: A Soldier's Life

"All I wanted to be was an airplane pilot, and here I am in an airplane trying to kill someone."
–Mel Freeman, pilot, Guadalcanal, from Semper Fi in the Sky

"A riveting account, by a master craftsman, of the exploits of the heroic Marine Corps airmen of World War II."
–Carlo D'Este