Loaded: A Disarming History of the Second Amendment (Paperback)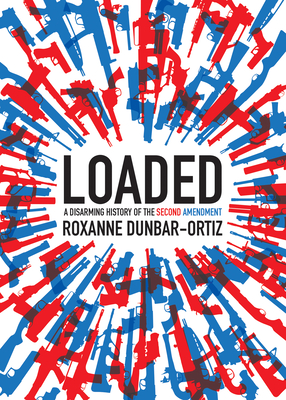 Description
---
"Her analysis, erudite and unrelenting, exposes blind spots not just among conservatives, but, crucially, among liberals as well. . . . As a portrait of the deepest structures of American violence, Loaded is an indispensable book."--Patrick Blanchfield, The New Republic
America loves guns. From Daniel Boone and Jesse James to the NRA and Seal Team 6, gun culture has colored the lore, shaped the law, and protected the market that arms the nation. In Loaded, Roxanne Dunbar-Ortiz peels away the myths of gun culture to expose the true historical origins of the Second Amendment, revealing the racial undercurrents connecting the earliest Anglo settlers with contemporary gun proliferation, modern-day policing, and the consolidation of influence of armed white nationalists. From the enslavement of Blacks and the conquest of Native America, to the arsenal of institutions that constitute the "gun lobby," Loaded presents a people's history of the Second Amendment, as seen through the lens of those who have been most targeted by guns: people of color. Meticulously researched and thought-provoking throughout, this is essential reading for anyone interested in understanding the historical connections between racism and gun violence in the United States.
Roxanne Dunbar-Ortiz grew up in rural Oklahoma, the daughter of a tenant farmer and part-Indian mother. She is the author of many books, including Outlaw Woman, a memoir of the 1960s and her time in an armed underground group, and the acclaimed An Indigenous Peoples' History of the United States. She lives in San Francisco.
Praise for Loaded
"A provocative cultural analysis arguing that the Second Amendment and white supremacy are inextricably bound. . . . the author's historical research provides strong support for her argument that gun love is as American as apple pie--and that those guns have often been in the hands of a powerful white majority to subjugate minority natives, slaves, or others who might stand in the way of the broadest definition of Manifest Destiny. A radical revision of American history, specifically as it relates to its persistent gun culture."--Kirkus Reviews
"Loaded recognizes the central truth about our 'gun culture': that the privileged place of guns in American law and society is the by-product of the racial and class violence that has marked our history from its beginnings."--Richard Slotkin, author of The Gunfighter Nation: Myth of the Frontier in Twentieth-Century America
"Trigger warning This is a superb and subtle book, not an intellectual safe space for confirming your preconceptions--whatever those might be--but rather a deeply necessary provocation. Roxanne Dunbar-Ortiz has done it again, giving us a fluid and sweeping history of the many painful contradictions that are the deep history of America's love-hate relationship with firearms. In understanding that history, Loaded also unpacks the contemporary pathologies of both fanatical gun culture and quixotic liberal moralizing against guns. As Dunbar-Ortiz shows us, the key connection between these antagonistic positions is their shared silence on that most pressing and persistent of American problems: economic exploitation and inequality."--Christian Parenti, author of Lockdown America: Police and Prisons in the Age of Crisis
"From an eminent scholar comes this timely and urgent intervention on U.S. gun culture. Loaded is a high-impact assault on the idea that Second Amendment rights were ever intended for all Americans. A timely antidote to our national amnesia about the white supremacist and settler colonialist roots of the Second Amendment."--Caroline Light, author of Stand Your Ground: A History of America's Love Affair with Lethal Self-Defense
"In her trenchant analysis of the Second Amendment, Dunbar-Ortiz avoids a legalistic approach and eschews the traditional view that links the amendment to citizens' need to protect themselves from a tyrannical government. Instead, she argues that the Second Amendment was passed to facilitate the genocide of Native Americans in order to steal their land and to provide a means for slaveholders to control their human property. She supports her thesis with numerous examples of atrocities directed at Native Americans in the late 18th and 19th centuries, and notes that 'slave patrols' were used to capture runaway slaves and bolster power among slave owners. To Dunbar-Ortiz, the Second Amendment is a reflection of an American gun culture that has countenanced genocide, slavery, and a scourge of civilian-perpetrated mass murders in the modern era. Though she acknowledges that there is 'no way to prove a correlation between war-related crimes and domestic mass shootings, ' she believes that Sandy Hook, Virginia Tech, and other similar tragedies are the predictable dark shadow and 'domestic expression' of what historian Andrew J. Bacevich dubbed 'the new American militarism.' Dunbar-Ortiz's argument will be disturbing and unfamiliar to most readers, but her evidence is significant and should not be ignored."--Publishers Weekly
"With her usual unassailable rigor for detail and deep perspective, Roxanne Dunbar Ortiz has potentially changed the debate about gun control in the United States. She meticulously and convincingly argues that U.S. gun culture--and the domestic and global massacres that have flowed from it--must be linked to an understanding of the ideological, historical, and practical role of guns in seizing Native American lands, black enslavement, and global imperialism. This is an essential work for policy-makers, street activists, and educators who are concerned with Second Amendment debates, #blacklivematters campaigns, global peace, and community-based security."--Clarence Lusane, Chairman and Professor of Political Science at Howard U.
About the Author
---
Roxanne Dunbar-Ortiz grew up in rural Oklahoma, the daughter of a tenant farmer and part-Indian mother. She has been active in the international Indigenous movement for more than four decades and is known for her lifelong commitment to national and international social justice issues. After receiving her PhD in history at the University of California at Los Angeles, she taught in the newly established Native American Studies Program at California State University, Hayward, and helped found the Departments of Ethnic Studies and Women's Studies. Her 1977 book The Great Sioux Nation was the fundamental document at the first international conference on Indigenous peoples of the Americas, held at the United Nations' headquarters in Geneva. Dunbar-Ortiz is the author or editor of many books, including her acclaimed An Indigenous Peoples' History of the United States. She is the recipient of the Cultural Freedom Prize for Lifetime Achievement by the Lannan Foundation, and she lives in San Francisco, CA.