Making the Future: Occupations, Interventions, Empire and Resistance (Paperback)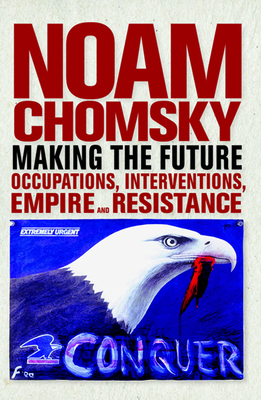 $16.95
Not On Our Shelves—Ships in 1-5 Days
Description
---
Making the Future presents more than fifty concisely argued commentaries on U.S. politics and policies, written between 2007 and 2011.
About the Author
---
Noam Chomsky was born in Philadelphia, Pennsylvania, on December 7, 1928. He studied linguistics, mathematics, and philosophy at the University of Pennsylvania. In 1955, he received his Ph.D. from the University of Pennsylvania and began teaching at the Massachusetts Institute of Technology, where he is Institute Professor Emeritus in the Department of Linguistics and Philosophy.

During the years 1951 to 1955, Chomsky was a Junior Fellow of the Harvard University Society of Fellows. While a Junior Fellow he completed his doctoral dissertation entitled, "Transformational Analysis." The major theoretical viewpoints of the dissertation appeared in the monograph Syntactic Structure, which was published in 1957 and is widely credited with having revolutionized the field of modern linguistics. This formed part of a more extensive work, The Logical Structure of Linguistic Theory, circulated in mimeograph in 1955. Most of a 1956 version was published in 1975.

In 1961, Chomsky was appointed full professor in the Department of Modern Languages and Linguistics (now the Department of Linguistics and Philosophy) at MIT. From 1966 to 1976 he held the Ferrari P. Ward Professorship of Modern Languages and Linguistics. In 1976 he was appointed Institute Professor, a position he held until 2002.

Chomsky is the author of numerous influential political works, including Failed States (Metropolitan Books), Hegemony or Survival: America's Quest for Global Dominance (Metropolitan Books), 9/11 (Open Media Series/ Seven Stories Press), Manufacturing Consent: The Political Economy of the Mass Media with Ed Herman (Pantheon), Necessary Illusions (South End Press), Understanding Power (New Press), Interventions (Open Media Series/ City Lights), Hopes and Prospects (Haymarket) and many other titles.

In 1988, Chomsky received the Kyoto Prize in Basic Science, given "to honor those who have contributed significantly to the scientific, cultural, and spiritual development of mankind." The prize noted that "Dr. Chomsky's theoretical system remains an outstanding monument of 20th century science and thought. He can certainly be said to be one of the great academicians and scientists of this century."