I Am Martin Eisenstadt: One Man's (Wildly Inappropriate) Adventures with the Last Republicans (Paperback)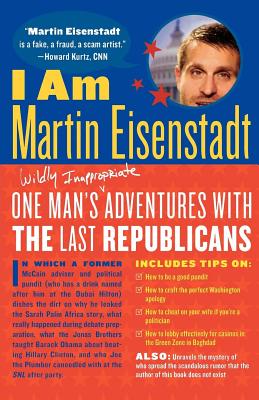 $22.00
Not On Our Shelves—Ships in 1-5 Days
Description
---
In the days after the 2008 presidential election, we heard that Sarah Palin thought Africa was one big country. We heard that the leak came from Martin Eisenstadt, a McCain policy adviser. And then, within forty-eight hours, we heard that he was a fraud, a fake, and that Martin Eisenstadt didn't exist.
Maybe he doesn't. But in a world where "news" can spread like wildfire on the Internet and a hoax can tell you more about politics than the facts, Martin Eisenstadt--whose blog and think tank fooled the world--has something to tell us. With the savviness of Primary Colors and the playfulness of Forrest Gump, his book is a mix of political intrigue, campaign-trail escapades, and cyberspace detective work. From debate preparation with Sarah Palin to his mother's basement (yes, he still lives at home), from Liberation of Iraq softball games to Saturday Night Live; from his campaign for casinos in the Green Zone to happy hour in Washington, we follow a neocon pundit on his travels. This is his version of the election campaign.
Martin Eisenstadt: Hoaxster? Hero? You decide.
About the Author
---
The political strategist and conservative analyst Martin Eisenstadt is a senior fellow at the Harding Institute for Freedom and Democracy and founder and president of the influential Eisenstadt Group. An expert on Near Eastern military and political affairs, Mr. Eisenstadt worked alongside Senator John McCain's presidential campaign, offering advice and liaising with the Jewish community in particular. Prior to that, he consulted on the Rudolph Giuliani campaign, as well as for numerous corporate and multinational organizations on issues of security and policy development. Mr. Eisenstadt has been an influential voice in public policy debate for over a decade. By the time you read this, he will have his own place and will not be living in his mother's basement.
Praise For…
---
"What's consistently funny about the book is that for all that Martin Eisenstadt is an obvious parody, there is a striking similarity between his character and demeanor and those of many of the people you routinely encounter in green rooms and cocktail parties around Washington. This time, like the last time, the joke goes both ways. That's why I intend it as real praise when I say that I Am Martin Eisenstadt is the best fake memoir of the campaign season." —Joshua Green, Washington Monthly "Washington has no shortage of pundits who pretend to know what they're talking about. But there's a real dearth of pretend pundits—and even fewer who will talk about why they're pretending in the first place." —Rick Klein, ABC News "The prank was funny, but it was also a telling example of what can sneak through the cracks of a 24-hour cable news cycle. But this part is not a joke: The two jesters now have a book out." —Patrick Gavin, POLITICO "He's been described as Stephen Colbert on the loose....The fake pundit has made friends with former White House press secretary Joe Lockhart, who hosted a book party at his Embassy Row home Wednesday night." —Tara Palmeri, The Washington Examiner "Laugh-out loud funny!" —Byron C. Tau, Roll Call "Mirvish and Gorlin have produced Eisenstadt's memoir, a chronicle of his years in American politics and a fictional attempt to dispel those nasty rumors that he doesn't exist. It's a fiendishly fun book, full of startling revelations." —David Pitt, Booklist "Martin Eisenstadt: America's Best Pundit....[his] new memoir is essential reading for all political junkies." —Ken Silverstein, Washington Babylon, Harpers.org
"What Stephen Colbert is to Bill O'Reilly, Martin Eisenstadt is to countless political pundits. Hilarious...biting commentary on Washington, D.C." —Jeremy Jacobs, Politics Magazine
"Martin Eisenstadt is a fake, a fraud, a scam artist." —Howard Kurtz, CNN (November 30, 2008) "And look at this in the upper left hand corner: 'Martin Eisenstadt is a fake, a fraud, a scam artist!' Talk about there being no such thing as bad publicity. Can you believe this? I denounce the guy as a lying snake and he's using me to sell books!... Amazing!" —Howard Kurtz, CNN (October 25, 2009) "Eitan and Dan's stunt simply proved what everyone already knew—24-hour news can easily fall victim to sensationalism. But more importantly, the authors and the book are funny, and we should all relax and take ourselves a little less seriously." —Amos Hochstein, former deputy campaign manager to Chris Dodd, via The Washington Post "So who did tell Fox News that [Sarah] Palin could not identify the countries involved in NAFTA and that she thought Africa was a country instead of a continent? Turns out it was Martin Eisenstadt, a McCain policy adviser, who has come forward today to identify himself as the source of the leaks." —David Shuster, MSNBC

"Now a pair of obscure filmmakers, Dan Mirvish and Eitan Gorlin, say they created Martin Eisenstadt… But under the circumstances, why should anyone believe a word they say?" —Richard Pérez-Peña, The New York Times