The Thirteen American Arguments: Enduring Debates That Define and Inspire Our Country (Paperback)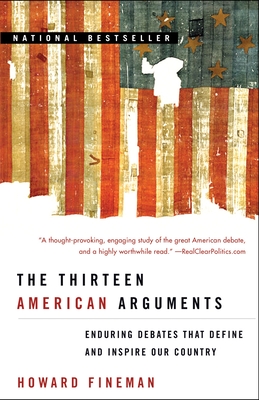 Description
---


Howard Fineman, one of our most trusted political journalists, shows that every debate, from our nation's founding to the present day, is rooted in one of thirteen arguments that-thankfully-defy resolution. It is the very process of never-ending argument, Fineman explains, that defines us, inspires us, and keeps us free. At a time when most public disagreement seems shrill and meaningless, Fineman makes a cogent case for nurturing the real American dialogue. The Thirteen American Arguments runs the gamut, including - Who Is a Person? The Declaration of Independence says "everyone," but it took a Civil War, the Civil Rights Act, and other movements to make that a reality. Now, what about human embryos and prisoners in Guantanamo?
- The Role of Faith No country is more legally secular yet more avowedly prayerful. From Thomas Jefferson to James Dobson, the issue persists: Where does God fit in government?
- America in the World In Iraq and everywhere else, we ask ourselves whether we must change the world in order to survive and honor our values-or whether the best way to do both is to deal with the world as it is. Whether it's the nomination of judges or the limits of free speech, presidential power or public debt, the issues that galvanized the Founding Fathers should still inspire our leaders, thinkers, and fellow citizens. If we cease to argue about these things, we cease to be. "Argument is strength, not weakness," says Fineman. "As long as we argue, there is hope, and as long as there is hope, we will argue.
About the Author
---
Howard Fineman is Newsweek's senior Washington correspondent and columnist. His "Living Politics" column appears regularly in the magazine, on newsweek.com, and on MSNBC.com. An award-winning writer, Fineman is also an NBC news analyst and a regular on Hardball with Chris Matthews and Countdown with Keith Olbermann. His work has appeared in The New York Times, The Washington Post, and The New Republic. Once a regular on CNN, Fineman now reports exclusively for NBC, and has appeared on most major public affairs shows, including Nightline, Face the Nation, Larry King Live, Fox News Sunday, Charlie Rose, and Washington Week in Review. Fineman lives in Washington with his wife and two children. From the Hardcover edition.
Praise For…
---
Praise for The Thirteen American Arguments

"The Thirteen American Arguments is a thought-provoking, engaging study of the great American debate, and a highly worthwhile read."
–RealClearPolitics.com

"Insightful and enjoyable . . . . In The Thirteen American Arguments, Howard Fineman lifts readers above the fog of modern politics . . . and offers a unique vantage point from which to see that the debates that shape American politics are timeless and profound."
--The Washingtonian

"A spectacular feat, a profound book about America that moves with ease from history to recent events. A talented storyteller, Howard Fineman provides a human face to each of the core political arguments that have alternately separated, strengthened, and sustained us from our founding to the present day."
–Doris Kearns Goodwin, author of Team of Rivals

"With a marvelous command of the past and a keen grasp of the present, Howard Fineman expertly details one of the great truths about our country: that we are a nation built on arguments, and our capacity to summon what Lincoln called 'the better angels of our nature' lies in undertaking those debates with civility and mutual respect. Few people understand politics as well as Fineman does, and this work is an indispensable guide not only to the battles of the moment, but to the wars that will go on long after this news cycle is long forgotten."
–Jon Meacham, author of American Lion and Franklin and Winston

"In an impressively thought-provoking original approach, Fineman revisits the great defining arguments that will deepen your understanding of America."
–Newt Gingrich, author of Real Change: From the World That Fails to the World That Works

"Howard Fineman proves that few things are as compelling as a well-argued debate. This book offers a thought-provoking way to look at America, its history, and our evolving public discourse."
–Arianna Huffington, author of Right Is Wrong

"A perfect antidote to the old horse-race political journalism–a timely (and timeless) reminder of what's really at stake in the race for the presidency."
–Jeffrey Toobin, author of The Nine: Inside the Secret World of the Supreme Court

"Howard Fineman guides the reader through the controversies that have haunted this nation since its inception. In the process he creates a fresh context for making sense of the 2008 campaign. Both scholars and students of politics can learn much from this book."
–Kathleen Hall Jamieson, co-author of unSpun: Finding Facts in a World of Disinformation

"A stimulating book that should be read by anyone who cares about the idea and arguments that made this country great, and which are critical to our future direction."
–David Boies, author of Courting Justice

"[The Thirteen American Arguments] couldn't be more timely. . . . There's nothing like a good, robust discussion at the kitchen table. Nothing better."
–Tim Russert

"A books for liberals and conservatives both."
–The Boston Globe

"A great new book . . . Read [The Thirteen American Arguments] if you care about America and our history."
–Chris Matthews