Patterns of Protest: Trajectories of Participation in Social Movements (Hardcover)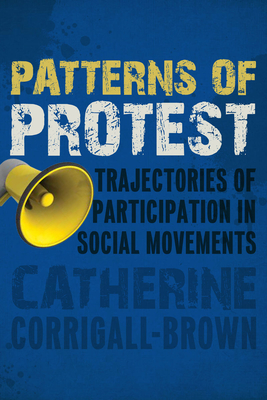 $45.00
Not On Our Shelves—Ships in 1-5 Days
Description
---
Asked to name an activist, many people think of someone like Cesar Chavez or Rosa Parks--someone uniquely and passionately devoted to a cause. Yet, two-thirds of Americans report having belonged to a social movement, attended a protest, or engaged in some form of contentious political activity. Activism, in other words, is something that the vast majority of people engage in. This book examines these more common experiences to ask how and when people choose to engage with political causes.
Corrigall-Brown reveals how individual characteristics and life experiences impact the pathway of participation, illustrating that the context and period in which a person engages are critical. This is the real picture of activism, one in which many people engage, in a multitude of ways and with varying degrees of continuity. This book challenges the current conceptualization of activism and pushes us to more systematically examine the varying ways that individuals participate in contentious politics over their lifetimes.
About the Author
---
Catherine Corrigall-Brown is an Assistant Professor in the Department of Sociology at the University of Western Ontario.
Praise For…
---
"The book is necessary reading for scholars who are interested in understanding what motivates entry into and exit from social activism. Corrigall-Brown's work will hopefully encourage a wave of new research that analytically demarcates and empirically evaluates the nuances of involvement as people engage in various challenges to the powers that be." — Kraig Beyerlein, American Journal of Sociology


"Sociologist Corrigall-Brown (Univ. of Western Ontario) breaks new ground in presenting a major systematic study of how individuals particiapte in or stop participating in protest activism . . . The author artfully combines quantitative analyses of panel data and qualitative life-history interviews and writes in a vivid, provocative manner. The end product is a theoretically rich, empirically rigorous book that students of contentious politics cannot afford to ignore. Summing Up: Essential."—J. Li, CHOICE

"Patterns of Protest is a path breaking examination of participation in social movements. Rather than focusing on the correlates of initial engagement, as most movement participation studies have done, Corrigall-Brown takes us on a journey, based on life history interviews with participants in four different movements, that elaborates the various degrees and trajectories of participation in a more thorough and nuanced fashion than has been done heretofore. A most welcome contribution to the study of social movements in general and participation in particular."—David A. Snow, University of California, Irvine

"For all the studies we have of movement recruitment, we know next to nothing about what happens after that. Or rather we knew nothing until this exceptional book came along. Corrigall-Brown's rich study is must reading for anyone who wants to understand the longer-term ebb and flow of participation that tend to define activist lives."—Doug McAdam, Stanford University

"Through a skillful use of quantitative and qualitative evidence, Patterns of Protest explains who is more likely to be a lifetime activist and who is more likely to be an intermittent participant or disengage from activism. This is a significant theoretical and empirical addition to our understanding of the dynamics of contentious citizenship across the life course."—Russell J. Dalton, University of California, Irvine