The Curmudgeon's Guide to Getting Ahead: Dos and Don'ts of Right Behavior, Tough Thinking, Clear Writing, and Living a Good Life (Hardcover)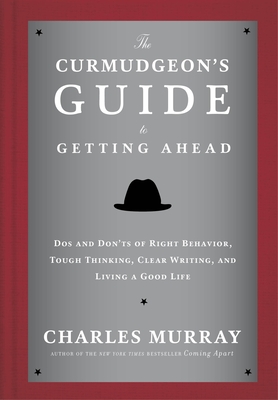 $17.95
Not On Our Shelves—Ships in 1-5 Days
Description
---
For those starting out in their careers--and those who wish to advance more quickly--this is a delightfully fussy guide to the hidden rules of the road in the workplace and in life.
As bestselling author and social historian Charles Murray explains, at senior levels of an organization there are curmudgeons everywhere, judging your every move. Yet it is their good opinion you need to win if you hope to get ahead.
Among the curmudgeon's day-to-day tips for the workplace:
- Excise the word -like- from your spoken English
- Don't suck up
- Stop -reaching out- and -sharing-
- Rid yourself of piercings, tattoos, and weird hair colors
- Make strong language count
His larger career advice includes:
- What to do if you have a bad boss
- Coming to grips with the difference between being nice and being good
- How to write when you don't know what to say
- Being judgmental (it's good, and you don't have a choice anyway)
And on the great topics of life, the curmudgeon urges us to leave home no matter what, get real jobs (not internships), put ourselves in scary situations, and watch Groundhog Day repeatedly (he'll explain).
Witty, wise, and pulling no punches, The Curmudgeon's Guide to Getting Ahead is an indispensable sourcebook for living an adult life.
About the Author
---
Charles Murray is the W.H. Brady Scholar at the American Enterprise Institute. He first came to national attention in 1984 with his book Losing Ground. His subsequent books include In Pursuit, The Bell Curve (with Richard J. Herrnstein), What it Means to Be a Libertarian, Human Accomplishment, In Our Hands, Real Education, and the national bestseller Coming Apart. He received a bachelor's degree in history from Harvard and a Ph.D. in political science from MIT. He lives with his wife in Burkittsville, Maryland.