Mao: The Unknown Story (Paperback)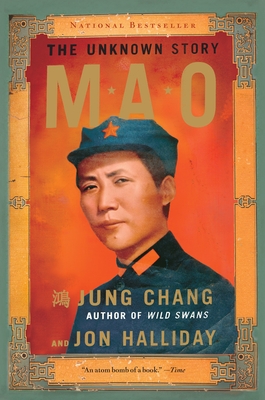 $20.00
Not On Our Shelves—Ships in 1-5 Days
Description
---
The most authoritative life of the Chinese leader every written, "Mao: The Unknown Story "is based on a decade of research, and on interviews with many of Mao's close circle in China who have never talked before and with virtually everyone outside China who had significant dealings with him. It is full of startling revelations, exploding the myth of the Long March, and showing a completely unknown Mao: he was not driven by idealism or ideology; his intimate and intricate relationship with Stalin went back to the 1920s, ultimately bringing him to power; he welcomed Japanese occupation of much of China; and he schemed, poisoned, and blackmailed to get his way. After Mao conquered China in 1949, his secret goal was to dominate the world. In chasing this dream he caused the deaths of 38 million people in the greatest famine in history. In all, well over 70 million Chinese perished under Mao's rule in peacetime.
About the Author
---
Jung Chang was born in Yibin, Sichuan province, China, in 1952. During the Cultural Revolution (1966 1976) she worked as a peasant, a barefoot doctor, a steelworker, and an electrician before becoming an English-language student and, later, an assistant lecturer at Sichuan University. She left China for Britain in 1978 and was subsequently awarded a scholarship by the University of York, where she obtained a Ph.D. in linguistics in 1982, the first person from the People s Republic of China to receive a doctorate from a British University. Her award-winning book, Wild Swans, was published in 1991, and has sold more than 10 million copies in 30 languages.

Jon Halliday is a former Senior Visiting Research Fellow at King s College, University of London. He has written or edited eight previous books."
Praise For…
---
"An atom bomb of a book." –Time

"A magisterial work. . . . This magnificent biography methodically demolishes every pillar of Mao's claim to sympathy or legitimacy. . . . A triumph." –The New York Times Book Review

"Chilling. . . . Impressive. . . . An extremely compelling portrait of Mao that will still shock many." –The Christian Science Monitor

"An important book in ways not envisaged. . . . A work of unanswerable authority." –The Seattle Post-Intelligencer

"The most complete and assiduously researched biography of its subject yet published. . . . No earlier work comes close to matching the density of detail here. . . . The authors have performed brilliant historical detective work." –The Atlantic Monthly

"Chang and Halliday cast new and revealing light on nearly every episode in Mao's tumultuous life…a stupendous work and one hopes that it will be brought before the Chinese people, who still claim to venerate the man and who have yet to come to terms with their own history…"-Michael Yahuda, The Guardian

"Jung Chang and Jon Halliday have not, in the whole of their narrative, a good word to say about Mao. In a normal biography, such an unequivocal denunciation would be both suspect and tedious. But the clear scholarship, and careful notes, of The Unknown Story provoke another reaction. Mao Tse-Tung's evil, undoubted and well-documented, is unequalled throughout modern history."-Roy Hattersley, The Observer

"Ever since the spectacular success of Chang's Wild Swans we have waited impatiently for her to complete with her husband this monumental study of China's most notorious modern leader. The expectation has been that she would rewrite modern Chinese history. The wait has been worthwhile and the expectation justified. This is a bombshell of a book."-Chris Patten, last British governor of Hong Kong, in The Times

"A triumph. It is a mesmerising portrait of tyranny, degeneracy, mass murder and promiscuity, a barrage of revisionist bombshells, and a superb piece of research."
-Simon Sebag Montefiore, The Sunday Times

"Jung Chang and Jon Halliday enter a savage indictment drawing on a host of sources, including important Soviet ones, to blow away the miasma of deceit and ignorance which still shrouds Mao's life from many Western eyes...Jung Chang delivers a cry of anguish on behalf of all of those in her native land who, to this day, are still not free to speak of these things."-Max Hastings, The Sunday Telegraph

"Demonstrating the same pitilessness that they judge to be Mao's most formidable weapon, they unstitch the myths that sustained him in power for forty years and that continue to underpin China's regime…I suspect that when China comes to terms with its past this book will have played a role."-Nicolas Shakespeare, Telegraph

"The detail and documentation are awesome. The story that they tell, mesmerising in its horror, is the most powerful, compelling, and revealing political biography of modern times. Few books are destined to change history, but this one will." -George Walden, Daily Mail

"decisive biography…they have investigated every aspect of his personal life and career, peeling back the layers of lies, myths, and what we used to think of as facts…what Chang and Halliday have done is immense and surpasses, as a biography, everything that has gone before."-Jonathan Mirsky, The Independent, Saturday

"written with the same deft hand that enlivened Ms. Chang's 1991 memoir, 'Wild Swans'…"-The Economist