Utopia (Hardcover)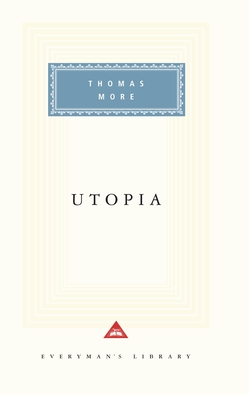 $18.00
Not On Our Shelves—Ships in 1-5 Days
Description
---

First published in 1516, during a period of astonishing political and technological change, Sir Thomas More's Utopia depicts an imaginary society free of private property, sexual discrimination, violence, and religious intolerance.
Raphael Hythloday, a philospher and world traveler, describes to the author and his friend an island nation he has visited called Utopia (combining the Greek
ou-topos
and
eu-topos
, for "no place" and "good place," respectively). Hythloday believes the rational social order of the Utopians is far superior to anything in Europe, while his listeners find many of their customs appealing but absurd. Given the enigmatic ambivalence of the character that More named after himself and the playful Greek puns he sprinkled throughout (including Hythloday's name, which means "knowing nonsense"), it is difficult to know what precisely More meant his readers to make of all the innovations of his
Utopia
. But its radical humanism has had an incalculable effect on modern history, and the callenge of its vision is as insistent today as it was in the Renaissance. With an introduction by Jenny Mezciems. (Book Jacket Status: Not Jacketed)
About the Author
---
Saint Thomas More, 1478-1535, English statesman and author of Utopia, celebrated as a martyr in the Roman Catholic Church. He received a Latin education in the household of Cardinal Morton and at Oxford. Through his contact with the new learning and his friendships with Colet, Lyly, and Erasmus, More became an ardent humanist. As a successful London lawyer, he attracted the attention of Henry VIII, served him on diplomatic missions, entered the king's service in 1518, and was knighted in 1521. More held important government offices and, despite his disapproval of Henry's divorce from Katharine of Aragon, he was made lord chancellor at the fall of Wolsey (1529). He resigned in 1532 because of ill health and probably because of increasing disagreement with Henry's policies. Because of his refusal to subscribe to the Act of Supremacy, which impugned the pope's authority and made Henry the head of the English Church, he was imprisoned (1534) in the Tower and finally beheaded on a charge of treason.A man of noble character and deep, resolute religious conviction, More had great personal charm, unfailing good humor, piercing wit, and a fearlessness that enabled him to jest even on the scaffold. His Utopia (published in Latin, 1516; tr. 1551) is a picture of an ideal state founded entirely on reason. Among his other works in Latin and English are a translation of The Life of John Picus, Earl of Mirandula (1510); a History of Richard III, upon which Shakespeare based his play; a number of polemical tracts against the Lutherans (1528-33); devotional works including A Dialogue of Comfort against Tribulation (1534) and A Treatise on the Passion(1534); poems; meditations; and prayers. More was beatified (1886) by a decree of Pope Leo XIII, canonized (1935) by Pius XI, and proclaimed (2000) the patron saint of politicians by John Paul II.