The Plantagenets: The Warrior Kings and Queens Who Made England (Hardcover)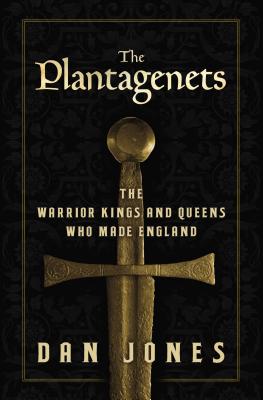 $36.00
Not On Our Shelves—Ships in 1-5 Days
Description
---
Outstanding . . . A thrilling history of royal intrigues, violent skullduggery and brutal warfare. Simon Sebag Montefiore
From the author of Magna Carta: The Birth of Liberty
The first Plantagenet king inherited a blood-soaked kingdom from the Normans and transformed it into an empire stretched at its peak from Scotland to Jerusalem. In this epic history, Dan Jones vividly resurrects this fierce and seductive royal dynasty and its mythic world. We meet the captivating Eleanor of Aquitaine, twice queen and the most famous woman in Christendom; her son, Richard the Lionheart, who fought Saladin in the Third Crusade; and King John, a tyrant who was forced to sign Magna Carta, which formed the basis of our own Bill of Rights. This is the era of chivalry, of Robin Hood and the Knights Templar, the Black Death, the founding of Parliament, the Black Prince, and the Hundred Year's War. It will appeal as much to readers of Tudor history as to fans of Game of Thrones.
About the Author
---
Dan Jonesis the author ofThe Plantagenets: The Warrior Kings and Queen Who Made England, a #1 international bestseller and New York Times bestseller, andWars of the Roses, which charts the story of the fall of the Plantagenet dynasty and the improbable rise of the Tudors. He writes and presents the popular Netflix series Secrets of Great British Castles.He is also the author ofMagna Carta: The Birth of LibertyandSummer of Blood: England s First Revolution andis working on a history of the Knights Templar due out in 2017."
Praise For…
---
Praise for The Plantagenets

"Like the medieval chroniclers he quarries for juicy anecdotes, Jones has opted for a bold narrative approach anchored firmly upon the personalities of the monarchs themselves yet deftly marshaling a vast supporting cast of counts, dukes, and bishops. . . . Fast-paced and accessible, The Plantagenets is old-fashioned storytelling and will be particularly appreciated by those who like their history red in tooth and claw. Mr. Jones tackles his subject with obvious relish."
—The Wall Street Journal

"Delicious . . . Jones has produced a rollicking, compelling book produced a rollicking, compelling book about a rollicking, compelling dynasty, one that makes the Tudors who followed them a century later look like ginger pussycats. . . . The Plantagenets is told with the latest historical evidence and rich in detail and scene-setting. You can almost smell the sea salt as the White Ship sinks, and hear the screams of the tortured at the execution grounds at Tyburn."
—USA Today

"Jones has brought the Plantagenets out of the shadows, revealing them in all their epic heroism and depravity. His is an engaging and readable account—itself an accomplishment given the gaps in medieval sources and a 300-year tableau—and yet researched with the exacting standards of an academician. The result is an enjoyable, often harrowing journey through a bloody, insecure era in which many of the underpinnings of English kingship and ¬Anglo-American constitutional thinking were formed."
—The Washington Post

"Brilliant and entertaining . . . a set of fine vignettes relating dynastic life, death, war, peace, governance, and palace intrigues. The result is a history book that frequently reads like a novel and can be opened to any chapter."
—Tampa Bay Times

"Blood-soaked medieval England springs to vivid life in Jones's highly readable, authoritative, and assertive history."
—Publishers Weekly

"They may lack the glamour of the Tudors or the majesty of the Victorians, but the Plantagenets are just as essential to the foundation of modern Britain. . . . The great battles against the Scots and French and the subjugation of the Welsh make for thrilling reading but so do the equally enthralling struggles over succession, the Magna Carta, and the Provisions of Oxford. . . . Written with prose that keeps the reader captivated throughout accounts of the span of centuries and the not-always-glorious trials of kingship, this book is at all times approachable, academic, and entertaining."
—Booklist

"A novelistic historical account of the bloodline that 'stamped their mark forever on the English imagination' . . . Perhaps Jones' regular column in the London Standard has given him a different slant on history; however he manages, it's certainly to our benefit. . . . For enjoyable historical narratives, this book is a real winner."
—Kirkus Reviews

"Outstanding . . . Majestic in its sweep, compelling in its storytelling, this is narrative history at its best. A thrilling dynastic history of royal intrigues, violent skullduggery, and brutal warfare across two centuries of British history."
—Simon Sebag Montefiore, bestselling author of Jerusalem: The Biography

"The Plantagenets played a defining part in shaping the nation of England, and Dan Jones tells their fascinating story with wit, verve, and vivid insight. This is exhilarating history—a fresh and gloriously compelling portrait of a brilliant, brutal, and bloody-minded dynasty."
—Helen Castor, author of She-Wolves: The Women Who Ruled England before Elizabeth

"This is history at its most epic and thrilling. I would defy anyone not to be right royally entertained by it."
—Tom Holland

"Jones has written a magnificently rich and glittering medieval pageant, guiding us into the distant world of the Plantagenets with confidence. This riveting history of an all-too-human ruling House amply confirms the arrival of a formidably gifted historian."
—Sunday Telegraph

"Entertaining and informative . . . Jones has produced an absorbing narrative that will help ensure that the Plantagenet story remains 'stamped on the English imagination' for another generation."
—Sunday Times (London)

"Traditional narrative history at its best."
—The Spectator

"Jones, a protégé of David Starkey, writes with his mentor's erudition but also exhibits novelistic verve and sympathy. . . . This is a great popular history, whether you are au fait with the machinations of medievalism or whether Magna Carta mystifies you. . . . The Plantagenets is proof that contemporary history can engage with the medieval world with style, wit and chutzpah."
—The Observer (London)

"This action-packed narrative is, above all, a great story, filled with fighting, personality clashes, betrayal and bouts of the famous Plantagenet rage. . . . Jones is an impressive guide to this tumultuous scene. . . . The Plantagenets succeeds in bringing an extraordinary family arrestingly to life."
—Daily Telegraph

"An excellent book . . . The Plantagenets is a wonderful gallop through English history. Powerful personalities, vivid descriptions of battles and tournaments, ladies in fine velvet and knights in shining armour crowd the pages of this highly engaging narrative."
—The Evening Standard