Mr. Wuffles! (Hardcover)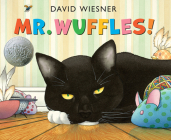 Description
---
A 2014 Caldecott Honor BookIn a near wordless masterpiece that could only have been devised by David Wiesner, a cat named Mr. Wuffles doesn't care about toy mice or toy goldfish. He's "much" more interested in playing with a little spaceship full of actual aliens but the ship wasn't designed for this kind of rough treatment. Between motion sickness and damaged equipment, the aliens are in deep trouble.
When the space visitors dodge the cat and take shelter behind the radiator to repair the damage, they make a host of insect friends. The result? A humorous exploration of cooperation between aliens and insects, and of the universal nature of communication involving symbols, cave paintings, and gestures of friendship.
About the Author
---
David Wiesner has won the Caldecott Medal three times for Tuesday, The Three Pigs, and Flotsam the second person in history to do so. He is also the recipient of two Caldecott Honors, for Free Fall and Mr. Wuffles. Internationally renowned for his visual storytelling, David has brought his artistry and his fascination with undersea life to a new genre, the graphic novel. He lives near Philadelphia with his family.