Mr. Wuffles! (Hardcover)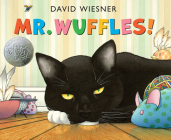 Description
---
A 2014 Caldecott Honor BookIn a near wordless masterpiece that could only have been devised by David Wiesner, a cat named Mr. Wuffles doesn't care about toy mice or toy goldfish. He's "much" more interested in playing with a little spaceship full of actual aliens but the ship wasn't designed for this kind of rough treatment. Between motion sickness and damaged equipment, the aliens are in deep trouble.
When the space visitors dodge the cat and take shelter behind the radiator to repair the damage, they make a host of insect friends. The result? A humorous exploration of cooperation between aliens and insects, and of the universal nature of communication involving symbols, cave paintings, and gestures of friendship.
About the Author
---
David Wiesner's interest in visual storytelling dates back to high school days when he made silent movies and drew wordless comic books. Born and raised in Bridgewater, New Jersey, he graduated from the Rhode Island School of Design with a BFA in Illustration. While a student, he created a painting nine feet long, which he now recognizes as the genesis of Free Fall, his first book of his own authorship, for which he was awarded a Caldecott Honor Medal in 1989. David won his first Caldecott Medal in 1992 for Tuesday, and he has gone on to win twice more: in 2002 for The Three Pigs and in 2007 for Flotsam. He is only the second person in the award s history to win the Caldecott Medal three times. David and his wife, Kim Kahng, and their two children live near Philadelphia, where he devotes full time to illustration and she pursues her career as a surgeon.