Unscientific America: How Scientific Illiteracy Threatens Our Future (Paperback)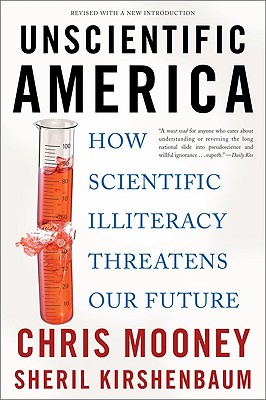 $15.99
Not On Our Shelves—Ships in 1-5 Days
Description
---
Climate change, the energy crisis, nuclear proliferation--many of the most urgent problems of the twenty-first century require scientific solutions, yet America is paying less and less attention to scientists. For every five hours of cable news, less than one minute is devoted to science, and the number of newspapers with science sections has shrunk from ninety-five to thirty-three in the last twenty years. In
Unscientific America
, journalist and best-selling author Chris Mooney and scientist Sheril Kirshenbaum explain this dangerous state of affairs, proposing a broad array of initiatives that could reverse the current trend.
An impassioned call to arms, Unscientific America exhorts Americans to reintegrate science into public discourse--before it is too late.
About the Author
---
Chris Mooney is the author of The Republican War on Science and Storm World. A Knight fellow in science journalism at MIT, he contributes to many publications, including Mother Jones, Wired, the Boston Globe, and Slate. He lives in Cambridge, Massachusetts.Sheril Kirshenbaum is Associate in Research for Ocean and Coastal Policy at Duke University's Nicholas Institute for Environmental Policy Solutions. She lives in Durham, North Carolina.