The Aquariums of Pyongyang: Ten Years in the North Korean Gulag (Paperback)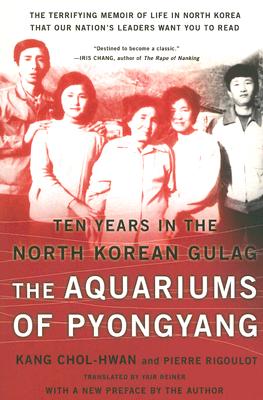 $16.99
Not On Our Shelves—Ships in 1-5 Days
Description
---
As tensions between the US and North North Korea continue to escalate, stories of life inside our long-time opponent are more relevant than ever.
North Korea's leaders have consistently kept a tight grasp on their one-party regime, quashing any nascent opposition movements and sending all suspected dissidents to its brutal concentration camps for "re-education."
Kang Chol-Hwan is the first survivor of one of these camps to escape and tell his story to the world, documenting the extreme conditions in these gulags and providing a personal insight into life in North Korea.
Part horror story, part historical document, part memoir, part political tract, this record of one man's suffering gives eyewitness proof to an ongoing sorrowful chapter of modern history.
About the Author
---
Kang Chol-Hwan lives and works in Seoul, where he is a staff writer for Chosun Ilbo, a daily newspaper in South Korea.Pierre Rigoulot is a journalist, historian, and human rights activist living in Paris, France. He is the author of numerous books on the history of political repression and contributed the North Korean chapter to the best-selling The Black Book of Communism (Harvard University Press).