City of Darkness, City of Light (Paperback)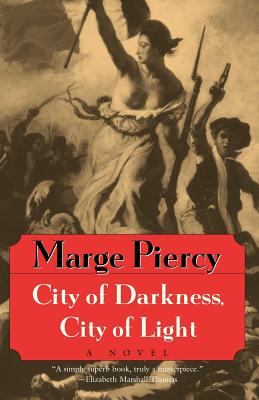 $23.00
Special Order—Subject to Availability
Description
---
"FAST-PACED . . . PIERCY BREATHES LIFE INTO THE ACTUAL HISTORICAL FIGURES WHO SHAPED THE REVOLUTION."
--San Francisco Examiner & Chronicle
In her most splendid, thought-provoking novel yet, Marge Piercy brings to vibrant life three women who play prominent roles in the tumultuous, bloody French Revolution--as well as their more famous male counterparts.
Defiantly independent Claire Lacombe tests her theory: if men can make things happen, perhaps women can too. . . . Manon Philipon finds she has a talent for politics--albeit as the ghostwriter of her husband's speeches. . . . And Pauline Leon knows one thing for certain: the women must apply the pressure or their male colleagues will let them starve. While illuminating the lives of Robespierre, Danton, and Condorcet, Piercy also opens to us the minds and hearts of women who change their world, live their ideals--and are prepared to die for them.
"MASTERFUL . . . PIERCY BRINGS THE BLOOD AND GUTS, THE IDEAS AND PASSIONS, OF THE REVOLUTION TO LIFE."
--The Women's Review of Books
"PIERCY'S STORYTELLING POWERS CAPTURE THE TURBULENCE AND EXCITEMENT OF THIS] LIBERATING ERA."
--The Boston Herald.