The Times of Their Lives: Life, Love, and Death in Plymouth Colony (Paperback)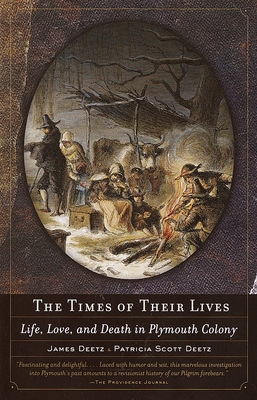 $17.00
Not On Our Shelves—Ships in 1-5 Days
Description
---
James Deetz, who until his death was a leading expert on the archaeology of Plymouth Colony, and his wife, cultural historian Patricia Scott Deetz, give a realistic and fascinating picture of life in colonial America as they recount, in colorful detail, the true story of Plymouth Colony.
The Pilgrims were not the somber, dark-clad historical figures children learn about in school. Nor were they nearly as pious as we've been led to believe: they wore brightly colored clothing, drank heavily, had adulterous affairs, and committed both petty and serious crimes against their neighbors. Using court transcripts, wills, probate listings, rare first-hand accounts, and archeological finds, the Deetzes delve into everyday life in Plymouth Colony, accurately recasting one of the most cherished chapters of American history.
About the Author
---
James Deetz died in November 2000. Patricia Scott Deetz is a cultural historian with an M.A. in history from Rhodes University, South Africa. She lives in Charlottesville, Virginia.
Praise For…
---
"[A] fascinating and delightful?revisionist history of our Pilgrim forebears."
--The Providence Journal

"The Deetzes have knocked the dust off these Thanksgiving pageant characters and given them new life."
--The San Diego Union-Tribune

"A hard-headed description...based on the evidence, of life in the Plymouth Colony."
--The New York Times