Faith, Reason, and the War Against Jihadism (Paperback)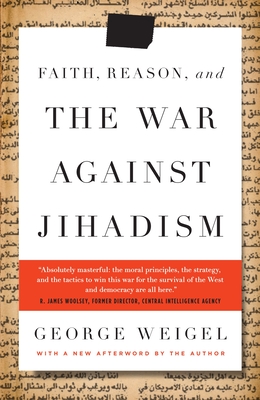 $13.00
Not On Our Shelves—Ships in 1-5 Days
Description
---
With an unsettled Middle East, al-Qaeda and other terrorist groups actively plotting against America and its allies, and spillover from religious conflict in Muslim countries spreading instability and violence worldwide, George Weigel's Faith, Reason, and the War Against Jihadism is an acute analysis of one of the most dynamic forces in world politics today - Islamist jihadism. After tracing the complex historical and theological roots of the jihadist movement, Weigel offers a comprehensive strategy for defeating jihadism and supporting those forces within Islam that seek a Muslim accommodation with religious freedom, the separation of religious and political authority in the state, and other key accomplishments of political modernity. Above all, Weigel insists, the West must take seriously the religious origins and rationale of jihadism if it is to meet the challenge posed by men of violence who claim to act in the name of God.
Essential reading in a time of momentous political decisions, Faith, Reason, and the War Against Jihadism is a clarion call for a new seriousness of debate and a new clarity of purpose in American public life.
About the Author
---
GEORGE WEIGEL, Distinguished Senior Fellow of Washington's Ethics and Public Policy Center, is a Catholic theologian and one of America's foremost commentators on issues of religion and public life. A Newsweek contributor and Vatican analyst for NBC News, Weigel is the author of fifteen books, including the New York Times bestseller Witness to Hope: The Biography of Pope John Paul II. His work has been translated into more than a dozen languages. From the Hardcover edition.
Praise For…
---
"This brilliant little book is, quite simply, the best analysis of the role played by religion in what I call World War IV."
—Norman Podhoretz


"Absolutely masterful: the moral principles, the strategy, and the tactics to win this war for the survival of the West and democracy are all here—coherent and persuasive. Osama bin Laden and Ahmadinejad will hate this little book above all others."
—R. James Woolsey, former director of the Central Intelligence Agency

"A stirring book: the battle of ideas against Islamist radicalism is now fully joined. George Weigel—a brilliant author with deep knowledge of theology and practical politics—provides a way forward for the western democracies. A badly needed and urgent book."
—Fouad Ajami, director of the Middle East Studies Program at Johns Hopkins University

"Provocative and exacting, George Weigel wants Americans to think more clearly about the way we live now, and in this unapologetically bracing book he lays out a stark vision of the challenges of our time as he sees them. Whether you agree with Weigel or not, you will want to hear him out, for his is a voice worth taking very seriously indeed."
—Jon Meacham, author of American Gospel and Franklin and Winston

"Weigel has written one of the most important books since 9/11. It's a bracing, challenging, and compelling account of the war we are in and which we have to win."
—William Kristol, editor of The Weekly Standard


"George Weigel has produced a thoughtful manifesto that wisely calls for bipartisan unity against a foe that threatens all that we cherish."
—Joe Lieberman, U.S.senator