Amsterdam (Paperback)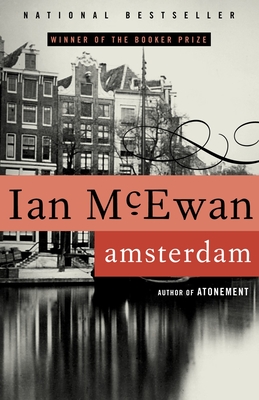 Description
---
On a chilly February day, two old friends meet in the throng outside a London crematorium to pay their last respects to Molly Lane. Both Clive Linley and Vernon Halliday had been Molly's lovers in the days before they reached their current eminence: Clive is Britain's most successful modern composer, and Vernon is editor of the newspaper The Judge. Gorgeous, feisty Molly had other lovers, too, notably Julian Garmony, Foreign Secretary, a notorious right-winger tipped to be the next prime minister.
In the days that follow Molly's funeral, Clive and Vernon will make a pact with consequences that neither could have foreseen. Each will make a disastrous moral decision, their friendship will be tested to its limits, and Julian Garmony will be fighting for his political life. A sharp contemporary morality tale, cleverly disguised as a comic novel, Amsterdam is "as sheerly enjoyable a book as one is likely to pick up this year" (The Washington Post Book World).
About the Author
---
Ian McEwan is the bestselling author of more than ten books, including the novels The Comfort of Strangers and Black Dogs, both shortlisted for the Booker Prize, Amsterdam, winner of the Booker Prize, and The Child in Time, winner of the Whitbread Award, as well as the story collections First Love, Last Rites, winner of the Somerset Maugham Award, and In Between the Sheets. He has also written screenplays, plays, television scripts, a children s book, and the libretto for an oratorio. He lives in London."
Praise For…
---
Winner of the Booker Prize


"A dark tour de force, perfectly fashioned."
--Michiko Kakutani, The New York Times

"A well-oiled machine....Ruthless and amusing."
--The New York Times Book Review

"Beautifully spare prose, wicked observation, and dark comic brio."
--The Boston Globe

"At once far-reaching and tightly self-contained, a fin de siécle phantasmagoria."
--New York

"Ian McEwan has proven himself to be one of Britain's most distinct voices and one of its most versatile talents....Chilling and darkly comic."
--Chicago Tribune

"By far his best work to date...an energizing tightrope between feeling and lack of feeling, between humanity's capacity to support and save and its equally ubiquitous penchant for detachment and cruelty."
--The San Diego Union-Tribune

"You won't find a more enjoyable novel...masterfully wrought, sure to delight a reader with even half a sense of humor." --The Atlant Journal-Constitution

"McEwan writes the sort of witty repartee and scathing retort we wished we thought of in the heat of battle. On a broader scale, McEwan's portrayal of the mutually parasitic relationship between politicians and journalists is as damning as it is comic." --The Christian Science Monitor