Crazy Horse and Custer: The Parallel Lives of Two American Warriors (Paperback)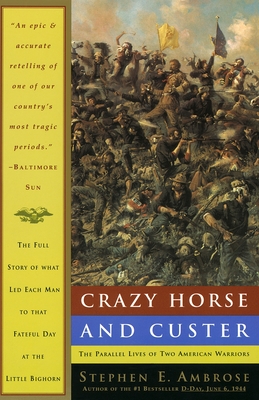 $18.00
Not On Our Shelves—Ships in 1-5 Days
Description
---
The full story of what led Crazy Horse and Custer to that fateful day at the Little Bighorn, from bestselling historian Stephen E. Ambrose.
On the sparkling morning of June 25, 1876, 611 U.S. Army soldiers rode toward thebanks of the Little Bighorn in the MontanaTerritory, where 3,000 Indians stood waiting for battle.The lives of two great warriors would soon beforever linked throughout history: Crazy Horse, leaderof the Oglala Sioux, and General George ArmstrongCuster of the Seventh Cavalry. Both were men of aggression and supremecourage. Both had become leaders in their societies atvery early ages; both had been stripped of power, and indisgrace had worked to earn back the respect oftheir people. And to both of them, the unspoiledgrandeur of the Great Plains of North America was anirresistible challenge. Their parallel lives wouldpave the way, in a manner unknown to either, foran inevitable clash between two nations fightingfor possession of the openprairie.
About the Author
---
Stephen E. Ambrose was the author or co-author of more than thirty books on military affairs and foreign policy. Early in his career he was an associate editor of The Eisenhower Papers, and he later went on to publish the definitive, three-part biography of Eisenhower, as well as many bestselling books of military history, including Band of Brothers and Undaunted Courage. He died in 2002.
Praise For…
---
"Movingly told and well written . . . a fine  contribution, one that will be read with pleasure and  admiration by general reader, student and scholar  alike. Ambrose has breathed new life into the  familiar facts."--Library  Journal

"An epic and accurate retelling  of one of our country's most tragic  periods."--Baltimore Sun