Times of My Life and My Life with the Times (Paperback)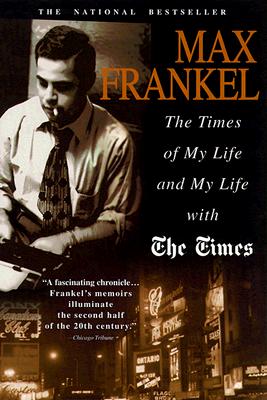 $15.95
Not On Our Shelves—Ships in 1-5 Days
Description
---
Since 1949, when Pulitzer Prize-winning journalist Max Frankel began to write for
The New York Times,
readers have looked to his work as a lens through which they could witness America's role in a rapidly changing world. In this vivid and unforgettable memoir, Frankel chronicles the times of his extraordinary life as he experienced them...within the context of the news stories that defined an era.
A quintessentially American story,
The Times of My Life
traces Frankel's riveting personal relationship with history...his harrowing escape from Nazi Germany...his life as an immigrant on the streets of New York...and his extraordinary half-century-long career at
The Times.
In a rich first-person account that moves from Hitler's Berlin to Cold War Moscow, from Castro's Havana to the newsroom of America's most influential newspaper, this powerful, compelling work interweaves Frankel's personal and professional lives with the era's greatest stories, from Sputnik to the Pentagon Papers to the collapse of the Berlin Wall. And it reveals Frankel's fascinating off-the-record encounters with Nikita Khrushchev, Henry Kissinger, John Kennedy, Richard Nixon, and a host of other history-makers who shaped their times--and ours.
Guiding readers through Hitler's Berlin, Khrushchev's Moscow, Castro's Havana, and the Washington of Kennedy, Johnson, and Nixon, THE TIMES OF MY LIFE reevaluates the Cold War, and interweaves Frankel's personal and professional life with the greatest stories of the era.
About the Author
---
Max Frankel was born in 1930 in Gera, Germany. Raised in New York City, Frankel received his B.A. and M.A. from Columbia University. He has written for The New York Times for fifty years and received the Pulitzer Prize for international coverage in 1973. He served as executive editor of The Times from 1986 to 1994. This is his first book. He lives in New York City.
Praise For…
---
"Must-reading for journalists and history buffs alike...a behind-the-scenes look at the inner sanctum of one of the world's mightiest newspapers, and the power plays and strong personalities that fueled the Cold War from beginning to end."
--The Dallas Morning News

"Gripping reading."
--The New York Times

"A fascinating chronicle...Intriguing...Illuminating...Frankel's memoirs illuminate the second half of the 20th century."
--Chicago Tribune

"Remarkably well-written and earnest...deserves to be widely read...it has much in common with Frank McCourt's Angela's Ashes, which also describes the immigrant experience of overcoming hardship and becoming an American."
--Associated Press

"Superb....This memoir is one of the most elegant ever composed by a newspaperman. It's a smart, tough, scrupulous book."
--The New York Times Book Review

"A wonderful read, vigorous, personal, and passionate."
--The Rocky Mountain News, Denver