A Moral Reckoning: The Role of the Church in the Holocaust and Its Unfulfilled Duty of Repair (Paperback)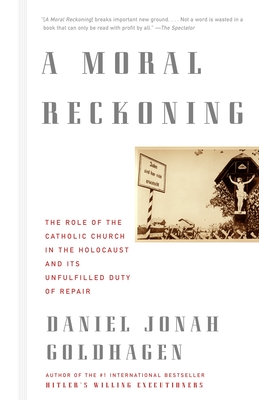 $16.00
Not On Our Shelves—Ships in 1-5 Days
Description
---
With his first book, Hitler's Willing Executioners, Daniel Jonah Goldhagen dramatically revised our understanding of the role ordinary Germans played in the Holocaust. Now he brings his formidable powers of research and argument to bear on the Catholic Church and its complicity in the destruction of European Jewry. What emerges is a work that goes far beyond the familiar inquiries most of which focus solely on Pope Pius XII to address an entire history of hatred and persecution that culminated, in some cases, in an active participation in mass-murder.
More than a chronicle, A Moral Reckoning is also an assessment of culpability and a bold attempt at defining what actions the Church must take to repair the harm it did to Jews and to repair itself. Impressive in its scholarship, rigorous in its ethical focus, the result is a book of lasting importance.
About the Author
---
Daniel Jonah Goldhagen was awarded Germany s Democracy Prize for Hitler s Willing Executioners. Until deciding to devote himself full-time to writing, Daniel Jonah Goldhagen taught political science and social studies for many years at Harvard University."
Praise For…
---
"[A Moral Reckoning] breaks important new ground. . . . Not a word is wasted in a book that can only be read with profit by all" —Spectator

"An impressive bill of indictments. . . . The strength of Mr. Goldhagen's argument is that it makes strikingly clear the ways in which the Inquisition, the pogroms, and the Holocaust are links in the same dread historical chain." —The New York Times

"Insisting that it is high time to 'call a spade a spade,' [Goldhagen] has written a post-Holocaust moral reckoning with Christianity, and the Roman Catholic Church in particular, that pulls few punches and guarantees a hard-hitting bout over history, ethics and theology. Goldhagen's book is unlikely to leave its readers indifferent. Its significance, however, depends less on immediate reactions and more on what happens 10, 20 or even 100 years after its appearance. Goldhagen may be helping to create a new Christianity. It will take time to tell." —Los Angeles Times