MacArthur's Victory: The War in New Guinea, 1943-1944 (Paperback)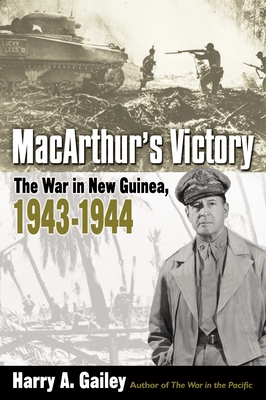 $14.95
Special Order—Subject to Availability
Description
---
A GREAT WARRIOR AT THE PEAK OF HIS POWERS
In March 1942, General Douglas MacArthur faced an enemy who, in the space of a few months, captured Malaya, Burma, the Philippines, the Dutch East Indies, and, from their base at Raubaul in New Britain, threaten Australia. Upon his retreat to Australia, MacArthur hoped to find enough men and materielfor a quick offensive against the Japanese. Instead, he had available to him only a small and shattered air force, inadequate naval support, and an army made up almost entirely of untried reservists.
Here is one of history's most controversial commanders battling his own superiors for enough supplies, since President Roosevelt favored the European Theater; butting heads with the Navy, which opposed his initiatives; and on his way to making good his promise of liberating the Philippines.
In the battles for Buna, Lae, and Port Moresby, the capture of Finschhafen, and other major actions, he would prove his critics wrong and burnish an image of greatness that would last through the Korean War. This was the "other" Pacific War: the one MacArthur fought in New Guinea and, against all odds and most predictions, decisively won.