Outliers: The Story of Success (Paperback)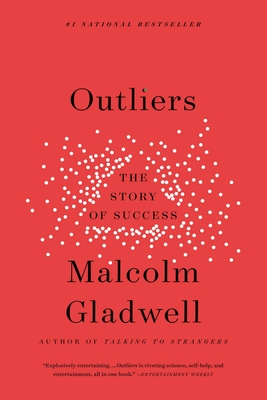 Description
---
In this stunning bestseller, Malcolm Gladwell takes us on an intellectual journey through the world of "outliers"--the best and the brightest, the most famous and the most successful.
His answer is that we pay too much attention to what successful people are like, and too little attention to where they are from: that is, their culture, their family, their generation, and the idiosyncratic experiences of their upbringing.
Along the way he reveals the secrets of software billionaires like Bill Gates, why you've never heard of the smartest man in the world, why almost no star hockey players are born in the fall, why Asians are good at math, what made the Beatles the greatest rock band and, why, when it comes to plane crashes, where the pilots are from matters as much as how well they are trained.
The lives of outliers follow a peculiar and unexpected logic, and in uncovering that logic, Gladwell presents a fascinating blueprint for making the most of human potential--one that transforms the way we understand success.
About the Author
---
Malcolm Gladwell is the author of three other books, The Tipping Point, Blink, and What the Dog Saw, all of which are New York Times bestsellers. He has been a staff writer for The New Yorker since 1996, prior to which he was a reporter with the Washington Post, where he covered business and science and also served as the newspaper's New York City bureau chief. Gladwell was born in England, grew up in rural Ontario, and now lives in New York City.
Praise For…
---
"In the vast world of nonfiction writing, Malcolm Gladwell is as close to a singular talent as exists today...Outliers is a pleasure to read and leaves you mulling over its inventive theories for days afterward."—David Leonhardt, New York Times Book Review

"The explosively entertaining Outliers might be Gladwell's best and most useful work yet...There are both brilliant yarns and life lessons here: Outliers is riveting science, self-help, and entertainment, all in one book."—Gregory Kirschling, Entertainment Weekly

"No other book I read this year combines such a distinctive prose style with truly thought-provoking content. Gladwell writes with a high degree of dazzle but at the same time remains as clear and direct as even Strunk or White could hope for."—Atlanta Journal Constitution